NES Classic Edition stock sold out — and eBay resellers are making a killing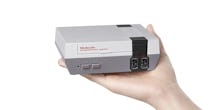 Nintendo's nostalgia-laced mini console, the Nintendo NES Classic, sold out almost instantaneously when it hit shelves on Veterans Day. Not to be deterred, would-be owners turned their attention to the next best thing: eBay, where Polygon reports an NES Classic was sold every 18 seconds on launch day, for an average price of $230. That's nearly four times higher than its retail price of $60.
NES Classic Edition on eBay: Get ready to pay extra
A quick eBay search brings up nearly 5,000 hits for the mini version of the NES. Most of them hover around the $200 mark, but a few are listed higher. Much, much higher.
This one, for example, is currently listed for $4,900 — enough to buy 81 NES Classics at retail price. To their credit, the seller is offering free overnight shipping, which is kind of like chopping someone's arm off with a machete and then handing them a Dora the Explorer band-aid.
But if that's not absurd enough, I found one listed for over $88,000 — that's enough to purchase 1,466 NES Classics at retail price, and, more than the base price of the 2016 Range Rover.
Yeah, good luck with that.
Unsurprisingly, it seems the seller was unable to rope some sad, rich moron into buying it. Instead, they had to re-list the item, but they didn't even lower the price the second time around.
NES Classic Edition: When will it be restocked?
If you can't take out a second mortgage to finance your purchase of an NES Classic Edition, you'll just have to wait like the rest of us for Nintendo to restock them. Thankfully, you probably won't have to wait too long.
Nintendo has said there will be a "steady flow" of new systems throughout the holiday season, so keep your eye on places like Amazon and Best Buy for more to pop up in the coming weeks.
And, not that you need me to tell you, but please, please do not spend more than $60 — and certainly not anything in the five digit range — on an NES Classic Edition. It'll be in stock eventually. Just wait. Donate money to a charity or something if you really have that much money burning a hole in your pocket. OK? OK.