What will Hillary Clinton do next? Here are her potential prospects after the election.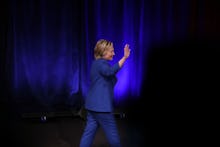 On Wednesday night, former presidential candidate Hillary Clinton made her first public remarks since losing the election to President-elect Donald Trump.
Speaking at an event for the Children's Defense Fund in Washington, D.C., where she was being presented with a lifetime achievement award, Clinton told the audience to "never, ever give up," according to the Washington Post.
So what does the future hold for Clinton, who has served in government in numerous capacities for the past 30-plus years? In her speech Wednesday night, she admitted that she considered never leaving her house again after her loss to Trump last week.
"I will admit, coming here tonight wasn't the easiest thing for me," she said, according to the Washington Post. "There have been a few times this past week when all I wanted to do is just to curl up with a good book or our dogs and never leave the house again."
Clinton could join the Clinton Foundation, an operating foundation that supports charity work around the world. It's led by her husband former President Bill Clinton and her daughter Chelsea.
The foundation was at the center of the 2016 presidential election as Trump claimed that the organization was used to give donors special access to Clinton while she served as secretary of state.
Clinton could spend her time writing another book. She's the author of several best-selling books, including Living History and It Takes a Village.
And there's a chance that she might have to spend her time fighting a legal battle over her email scandal, something Trump has vowed to do. Trump supporters repeatedly shouted "Lock her up!" at his rallies.
During the second presidential debate, Trump threatened to go after Clinton if he was elected president. Clinton replied by saying that "it's just awfully good that someone with the temperament of Donald Trump is not in charge of the law in our country," according to a transcript provided by Newsweek.
Trump shot back: "Because you'd be in jail."
But during an interview with CBS' 60 Minutes just days after being elected, Trump said that wasn't a priority for him right now.
"I'm going to think about it," he said. "Um, I feel that I want to focus on jobs, I want to focus on healthcare, I want to focus on the border and immigration and doing a really great immigration bill. We want to have a great immigration bill. And I want to focus on all of these other things that we've been talking about."