A list of Trump's biggest real estate properties, hotels and businesses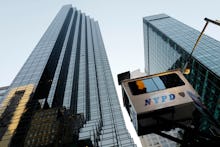 Donald Trump's presidency will be unprecedented — never has a president-elect with no political experience and no military background been commander in chief.
Some of Trump's business ventures in the past have been what some consider failures, and the mogul's companies have filed for bankruptcy on several occasions. Trump is, however, still worth a lot, and his name adorns many businesses and properties around the world.
Real estate and hotels
Trump made his name in real estate, evidenced by the many buildings which bear his name (although a few apartments had his name removed this week). Trump Tower is the most iconic of the properties. Completed in 1983, the building towers 68 stories above Central Park in New York City, and is home to offices, condos and Trump's own gold-plated penthouse.
Also in New York City is the Grand Hyatt Hotel. Trump purchased the property, then known as the Commodore Hotel, in the 1970s through what some consider controversial means. Trump received a 40-year tax abatement for purchasing the property. He was also sued by Hyatt for failing to pay his fair share of improvement costs to the property.
Trump International Hotel and Tower in Chicago is the frequent spot for protesters to congregate in the Windy City. The building stands 92 stories tall above the Chicago River and allows guests easy access to Michigan Avenue.
The Trump brand includes a myriad of other hotels and properties from around the globe, including a 64-story hotel in Las Vegas, a 70-story hotel in Panama, and a new hotel in Rio de Janeiro.  
Trump's golf courses
The Donald Trump empire includes more than a dozen high-end golf courses in various locations around the globe. Trump International Golf Links in Aberdeen, Scotland, includes "huge dunes, tricky bunkers and spectacular views of the North Sea," according to NationalClubGolfer.com. Trump International Golf Links in Doonbeg, Ireland, opened in 2002, and features both a highly rated golf course and hotel.
Trump won't be too far from his golf courses when he assumes the presidency either: The Trump National Golf Club in Washington, D.C., is just a half hour drive away. The course is set to host the Senior PGA Championships in 2017.
And if he ever needs to visit the Middle East, Trump can even golf there — the president-elect can discuss oil prices with dignitaries while he visits his International Golf Club in Dubai. 
Trump Model Management
Trump Model Management bills itself as an agency that provides "a wide range of innovative and vibrant talent which personify the trends of the fashion industry," according to its website. It is regarded as one of the top modeling companies in New York City, although it is not without its share of controversy.
The company has allegedly hired workers from around the globe without first filing the necessary paperwork for their work visas. Former models have also said that Trump Model Management paid them "slave" wages, though the lawsuit alleging those statements was later dismissed in court.