iPhone 8 rumors: Here's everything you need to know about the next iPhone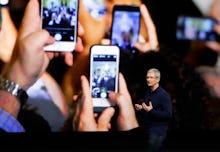 The iPhone 7 is only two months old but we already can't wait for the next iteration. Why? Because the iPhone 8 is rumored to feature a radical redesign commemorating the tenth anniversary of Apple's original smartphone. With 2017 around the corner, take a look at some of the speculation surrounding Apple's next big thing. 
iPhone 8 rumors
Three iPhones at once: On Tuesday, news broke that Apple is planning on releasing three new iPhones of differing size and quality. MacRumors obtained a research note from KGI Securities analyst and Apple insider Ming-Chi Kuo regarding the company's plans. 
More advanced camera: According to Kuo, Apple will package a base 4.7-inch iPhone 8 with a single-lens camera and LCD display. Another LCD iPhone will feature a 5.5-inch screen and dual-lens camera — these are essentially the iPhone 8 and iPhone 8 Plus. But where things really get interesting is the inclusion of a third, higher-end model with a dual lens camera and OLED display. 
One final note regarding the camera: Kuo also predicts the iPhone 8 Plus and OLED display iPhone will feature optical image stabilization in both of its lenses. The iPhone 7 Plus only flaunts OIS in the wide-angle lens.
OLED display: Not only has OLED technology never been implemented into an iPhone, but Barclays analysts recently suggested this new device will pack a whopping 5.8-inch screen — the biggest iPhone display to date.
Edgeless screen: One of more of these new iPhone models could boast some additionally impressive aesthetic features. We're talking about the possibility of bezel-less edge-to-edge screens with Touch ID embedded directly within the display in favor of a traditional home button. And it looks like Apple is finally going to hop on board the wireless charging train, though rumors of a transmitter that replenishes battery anywhere within 15 feet may be too hopeful — but we'll see. 
Better processing: Specs-wise, it's likely Apple does its traditional upgrade of the "A" processor. Next in line would be the A11 chip, which would offer a typical increase in speed and efficiency.  
And yes, the headphone jack will still be missing. You can count on that.