Bruno Mars' '24K Magic' is here: Download and streaming options for the new album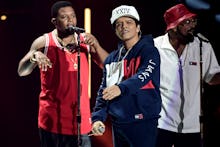 Are your pinky rings on? Are your shoulders and arms ready to lift them to the moon? Because Bruno Mars' 24K Magic, which houses 2016's premier pinky ring anthem "24K Magic," is here.
The album is Mars' first in four years, following his 2012 Unorthodox Jukebox. It continues the slick, greasy pop funk Mars claimed as his own with the smash hit "Uptown Funk," recorded alongside Marc Ronson. The album's title track, "24K Magic," is a clean redux of that style and vibe, as are several others on the 9-track LP, including "Chunky," which the artist previously debuted on Saturday Night Live. 
Fans thirsty for more of Mars' pretty boy soul, can download the album through iTunes or stream it via Apple Music, Spotify or Tidal.
Several of the tracks also include a distinctive '80s Michael Jackson vibe, the most distinctive being the album's fifth track "Versace on the Floor," a decadent, swaying ballad in which Mars sings: "Oooh I love that dress/ But you won't need it anymore ... Let's just kiss 'til we're naked, baby."
"I wanted to create my world," Mars told the Herald. "I wanted to envision me and the band dancing, draped in Versace and gold, and my hair spraying people in the audience. It was more of a sweatier party, and I wanted the songs to feel like that."
Fans will have to judge how effectively Mars was able to conjure that vibe. Press play below, close your eyes and see if you can feel the sweat and champagne sprinkling onto your face in a fine mist.
Nov. 18, 2016, 8:47 a.m.: This article has been updated.