How to launch a small business: 5 secrets to a successful startup company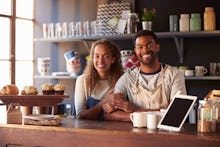 Quietly daydreaming about starting your own company?
The United States may not have the best health care, education or political democracy in the world, but it is the best place to start a business — at least according to the Legatum Institute, a think tank that researches world prosperity.
Before you get too excited, though, you should know what you are up against: About half of small businesses do not make it to their fourth year. 
More than 70% of those fail because of incompetence or errors arising from a lack of management experience: mistakes like expanding too quickly, for example.
Then again, one could argue that the failure statistics are fuzzy — and the odds of success are improving: One index that tracks the success rate and expansion rates of small businesses reported that nearly half of new businesses survive to celebrate their fifth birthday. And the default rate of small business loans is at an all-time low of 2%, down from a peak of 6% in 2009.
If you want to beat the crowd, you'll need some guidance. A lot of business tips cost cash money, but good advice can be free — and the best kind is from those who have been there.
We looked at businesses that soared and failed, and listened to serial entrepreneurs about what they wish they had known when they were starting up. Here are their secrets.
If you are a sole proprietor, find B2B partners — don't reinvent the wheel. 
You may be offering your one-of-a-kind rum-dipped peanut-doodle cookies to market, but that doesn't mean you need to build your own store and construct your own vending machines to sell them. 
Better to rely on existing infrastructure and expertise.
Don't pull a WebVan. That's the company that could foresee in 1996 that people would pay to select groceries online and have them delivered. 
But WebVan opted to build its entire infrastructure from scratch — the warehouses, the conveyor belts, the software algorithms. This massive expenditure (in addition to lower margins with mass-market pricing — and expanding too fast) toppled the upstart in 2001, leaving it bankrupt after going through $800 million in cash.
Grocery delivery 2.0 took notes: Instacart and Postmates use existing stores, and infrastructure to get deliveries to customers. And they are thriving.
So look for opportunities to partner with larger companies that may help you.
Unlike WebVan, you'll want to set yourself up to be nimble and be able to adapt quickly — or "iterate," in startup jargon. Feedback from customers and trusted advisers will be your best friend.
Don't go it alone when it comes to financing your enterprise, either: You're in a risky business before you even hang out your shingle if you plan to use your retirement funds to finance your business.
Most small businesses can be started with as little as $3,000 for legal fees and paperwork. Home-based businesses can get up and running for even less.
Crowdfunding and peer-to-peer lending, newish ways to generate cash online, are gaining traction. Online lending platforms financed $8.6 billion in loans in 2014, more than all previous years combined, according to the Small Business Association. 
Plus, the Securities Exchange Commission adopted rules last year regulating small investors' funding startups, which are now allowed to take in up to $1 million in debt or equity each year from individual investors. Though that cap is lower than traditional funding methods, the paperwork can be considerably less.
The Small Business Association has an array of resources and tools — business plan templates, tax tips, exporting information — including a funding system to help you find federal, state and local finances for your business.
Be prepared: It will take longer to launch than you think — and there are no days off.
Contrary to what Tim Ferris is selling, there is no four-hour workweek for budding entrepreneurs.
"No one ever told me that I would be trading my 50-hour workweek for a 100-plus hour workweek when I first started my company," Roger Bryan, of Enfusen Digital Marketing, told the Muse. "The one piece of advice I would give new entrepreneurs is to plan on investing all of your time and then some if you plan on being successful."
The paperwork, the sales, set up: There's a lot to think about. And if you are opening a storefront? Good luck. 
Serial business owners recommend setting a deadline for a soft opening 10 days before the official launch. That will give you time to finish details and work out the kinks before it's full speed ahead.
If you're working online, set aside loads of time for the sales page. That is where the magic happens and it can take a lot of tweaking to get it right. 
"Your sales page will take 10 times longer than you think it will," says Denise Duffield-Thomas who writes about women and money on her website in a post about a recent product launch. "Even with an existing sales page, making tweaks takes so much longer than you think."
Protecting yourself from liability — and getting insurance — can't be an afterthought.
If you are selling food and someone gets sick; if you are giving advice and someone loses money; if you are selling a product and it is defective and hurts someone — you are liable.
That means an unhappy customer can sue you and unless you have protections in place, all of your personal assets are up for grabs.
Setting up a limited liability corporation separates you (and your personal money and assets) from your company's money. Someone cannot come after your personal assets when trying to sue the business. 
A limited liability corporation is not the only kind of business, of course, but it does addresses many of a new business's primary concerns.
You can set these up through online legal sites like LegalZoom or Bizfilings.
As a new business owner, you are also responsible for any permits or licenses that are required to keep you this side of legal sales. You will need a federal permit if you're selling alcohol or firearms; transporting animals, plants or biotechnology across state lines; do work involving natural resources; or operate an aircraft, ocean vessel or oversized vehicle, among others.
You'll want to check with your state regulations to see what requires a permit or license.
Lastly, you'll want to protect yourself with business insurance. There are countless kinds of business insurance for all manner of events and situations. 
A general policy is a good place to start, but the scope may not be entirely up to you: States regulate what kind of insurance you are required to have.
If you have employees, for example, you'll be required to pay into unemployment insurance. If you or your employees operate vehicles, you may need to get commercial auto insurance. And if you have traditional financing from a lender, it may require you to keep certain insurance policies up to date.
Many business owners working on their own out of their home mistakenly think that their homeowners policy also covers their business. Not so.
You'll need to find an insurance policy that fits your business needs to be fully protected.
Competition is good and advisers are a must.
Startup activity is growing: Entrepreneurship, as measured by revenue and number of employees, is up in 2016, according to the Kauffman index of startup activity. That follows an upward swing that started in 2015; in 2014 the startup activity index was at its lowest point in the last 20 years. 
This should motivate — not discourage you. 
"The competition is what keeps you on your toes," Harry Whitehouse, co-founder and chief technology officer of Endicia, an online postage site wrote on Entrepreneur. "It forces you to evolve and innovate beyond what you originally thought possible."
If you are way out ahead all by yourself — bully for you: You've got some elbow room. But it can be hard to innovate if there is no pressure to make changes. When you are in a crowded field, you know you won't succeed unless you differentiate yourself through product enhancements or superior service.
Competition can also give legitimacy to your company or your field (look at what Nike and Jawbone did for a player like Fitbit) and also build or expand market demand (look at how Nissan is baiting Tesla in the electric car market).
"If nobody is competing in your space, there's a very good chance the market you're going into is too small," Ben Yoskowitz, an investor and founding partner at Year One Labs, a startup accelerator based in Montreal, told Inc. "Any reasonably good idea has 10,000 people working on it right now. You may not even know they exist because they're as small as you."
The best advisers for you may actually be people who at one time would have been competitors: They have been in your shoes and know the landscape you're moving through. 
Serial entrepreneurs stress the importance of having advisers and mentors around — and when to use each one.
You need to get out of your own head and ask questions, bounce ideas around and sometimes just talk things through. 
Marketing isn't what you think it is.
Let's say your business is struggling and you have a little extra cash. Should you put it toward marketing or investing in technology?
The smart money is on technology — and innovation. 
"Driving more people to a broken business model will just create more problems," Chris Brown, a personal fitness entrepreneur, writes on his website.
Brown suggests that business owners do the math on how long clients will stay with them, what their expected growth rate is and how many new leads or clients they need to stay ahead. It may be much smaller than you think. 
Throwing money at mass-marketed or wide-reaching advertising may not target the audience you need.
Make the most of publicity that is free or low cost such as social media and referral sites like Angie's List or Yelp.
And GetRecommened is a new site that allows business owners to build their own page and get non-anonymous recommendations.
You'll want to know you're pricing your products correctly and not throwing too much at marketing.
Finally, remember: You have one of the most important marketing tools that is uniquely yours: your story.
The authenticity and differentiation of a good business narrative will pay dividends — with customers and investors alike.
We are shining a spotlight on some of the millions of small businesses now challenged by COVID-19. This is part of an ongoing commitment our parent company, Bustle Digital Group, is making to support small businesses throughout the entire month of May. Tell us about your favorite small business on social media using #SmallBusinessSalutes.