Baltimore teacher tells class they'll be "broke ass niggers" who are "going to get shot"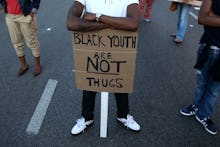 You feel that drop? That's your heart sinking.
Footage of a teacher berating her students, most of whom are African-American, is going viral. The video was filmed at Baltimore's Harlem Park Elementary School, where a teacher hurled an anti-black slur at her class after kicking one student out of her classroom, the Root reported.
Erica Esha Deminds, the mother of one of the students in the class, uploaded the video on Facebook Thursday. After a moment of silence from the teacher following a student's ejection from the class, at around the :55 mark, the teacher goes off on the students.
"You're idiots," the teacher shouted. "You have a chance to get an education. Do you wanna be a broke ass nigger who's going to get shot?" 
The classroom erupted in shock and outrage, and a student in the background can be heard saying "that's racist."
"Learn something. Be a man," the teacher added.
On Thursday afternoon, according to a statement released by Baltimore City Public Schools, the teacher featured in the video was fired from Harlem Park Elementary. 
"At Baltimore City Public Schools, we are committed to creating positive and equitable learning environments in school communities where all members are welcome, supported, and valued," the statement read. "No form of discriminatory behavior of any kind is or will be tolerated."
Nov. 17, 2016, 4:55 p.m.: This article has been updated.