These are all the major cabinet positions President-elect Donald Trump needs to fill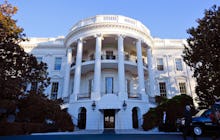 President-elect Donald Trump has spent the past week figuring out who to appoint to his administration. So far, he's named Republican National Committee Chairman Reince Priebus as chief of staff and his top campaign manager Steve Bannon as chief strategist and senior counselor.
Now he has about 4,000 more government jobs to fill, including several top cabinet positions. It's a daunting task.
During an interview on Sunday with CBS' 60 Minutes, Trump addressed claims he "went completely silent" after he won the election.
Lesley Stahl: On election night, I heard you went completely silent. Was it a sort of realization of the enormity of this thing for you?
Here's a look at the key cabinet positions Trump must fill as he prepares to take office on Jan. 20 and some of the people reportedly being considered for the job.
Secretary of State
Several names have been floated to fill the job of top diplomat, including Sen. Bob Corker of Tennessee, who serves as chairman of the Senate Foreign Relations Committee, John Bolton, former U.S. ambassador to the United Nations under George W. Bush and South Carolina Gov. Nikki Haley. Former House Speaker Newt Gingrich and former New York City Mayor Rudy Giuliani have also been under consideration for the job but their chances seem unlikely.
Treasury Secretary
Thomas Barrack Jr., founder, chairman and executive chairman of Colony Capital, Rep. Jeb Hensarling of Texas, who chairs the House Financial Services Committee and former Goldman Sachs executive Steven Mnuchin have all been floated as possible treasury secretary in Trump's administration.
Defense Secretary
Trump is reportedly considering Sen. Jeff Sessions of Alabama, who serves on the Armed Services Committee, and Sen. Tom Cotton of Arkansas and Rep. Duncan Hunter of California, who both served in Iraq and Afghanistan, to lead the Pentagon.
Veterans Affairs Secretary
Rep. Jeff Miller of Florida, who has served on the Veterans Affairs Committee since 2001, is on the short list to run the Department of Veterans Affairs.
Attorney General
Sen. Jeff Sessions of Alabama is also being considered for U.S. attorney general along with former New York City Mayor Rudy Giuliani. Texas Sen. Ted Cruz, who ran against Trump in the Republican primary, is also on that list.
Interior Secretary
Donald Trump, Jr., who is an avid hunter, has reportedly been gunning for the position of interior secretary. But a 1967 statute prohibits the president from hiring relatives. Some of the top contenders for the job include former Alaska governor and vice presidential candidate Sarah Palin, former Arizona Gov. Jan Brewer, Robert Grady, a partner with Gryphon Investors and Harold Hamm, CEO of Continental Resources.
Homeland Security Secretary
Former New York City Mayor Rudy Giuliani is also being considered as Homeland Security Secretary. Also on the list is Rep. Michael McCaul of Texas, who is chairman of the Homeland Security Committee, and Sen. Jeff Sessions of Alabama.
Education Secretary
Williamson Evers, an expert at the Hoover Institution in Stanford, California, is being considered as education secretary.
Trump has several other cabinet positions to fill including agriculture, commerce, labor, health and human services, housing and urban development, transportation and energy.