Brad Hoylman, out gay New York state senator, finds swastika in his apartment building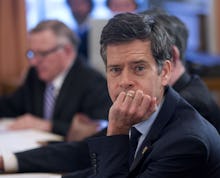 One of the vilest symbols of white supremacy, the swastika, was carved inside a Manhattan apartment building. One of its residents is out gay New York state Sen. Brad Hoylman, who lives in the building with his Jewish husband and their daughter. 
"I fear that the alt-right is coming for all of us," Hoylman said in a phone interview. "Why this is acceptable is beyond me."
Hoylman shared a picture of the swastika on his Facebook page, where commenters left messages of support and hope — with a few messages of fear — underneath the photo. 
Hoylman's report of the swastika is just one of the over 400 incidents of harassment and intimidation that the Southern Poverty Law Center reports has happened in the week since the presidential election. 
Hoylman said to Mic he is currently converting to Judaism. He also said that all religious, sexual and ethnic minorities — and women — should be on high alert, especially since Donald Trump appointed Steve Bannon, head of the alt-right news network Breitbart, as chief strategist.
"Trump needs to disavow Bannon and rescind his appointment," Hoylman said. "It is unacceptable for that to remain — it sends a signal to those elements in our country that I think emboldens their racism and bigotry." 
Hoylman said he attended a meeting Wednesday of the Stonewall Democratic Club of New York City, an LGBTQ group in New York, and that there was a "collective anxiety."
"There was this collective anxiety among our community, among every minority community and women, that our country has made a terrible mistake and we are off course from what we want this nation to be," he said.
M. Dove Kent, the executive director of Jews for Racial & Economic Justice, agreed with Hoylman and said many in his community and other minority communities have much to fear in a post-Trump world. 
"The election of Trump has emboldened Christian white supremacists who are committing increasingly visible acts of racism, anti-Semitism, and Islamophobia," Kent said in a statement. "Acts like this, paired with the proposed appointments of bigots like Steven Bannon to some of the highest offices of our country, demonstrate the need for targeted communities to organize together, not only against these individual crimes and appointments, but also against abhorrent policies coming from this new administration." 
Hoylman also said he believes that people should respond to this hatred with organizing, no matter what that looks like. 
"Collective action is the only solution," he said. "Whether it's going on the streets, joining your local political club, preparing to support candidates in the midterms — this is a five-alarm fire. And we have to be prepared."