Kellyanne Conway and Ted Cruz deride Trump protesters as "snowflakes" and "idiots"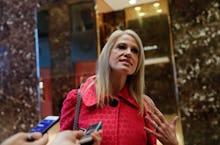 Donald Trump isn't the only one with a flare for a putdown.
As protests and condemnations of the president-elect continue to roil the country, Trump senior adviser Kellyanne Conway said America needs to toughen up on tender millennials.
"We're just treating these adolescents and these millennials like precious snowflakes," Conway told Sean Hannity of Fox News on Wednesday night.
Conway said she was brought up to "respect the office of the presidency and its current occupant and the flag, and that's it."
As her candidate has, Conway went after "paid protesters" and politicians who want to "whine and cry" about Trump's defeat of Democrat Hillary Clinton.
By comparison, she said, President Barack Obama and Vice President Joe Biden have been much more modulated in tone and have encouraged the public to give Trump a chance.
Said Conway: 
I'm just amazed how many texts and emails I received about these college professors saying, "You don't have to take the test, you can get a college credit if you protest." What's the worst thing that can happen to these millennials? That Donald Trump will make good on his promise to create 25 million new jobs? That he'll unleash energy investment? That he'll get rid of the Obamacare penalty on day one, so that you're not forced to buy government-run health care?
On Thursday, Texas Sen. Ted Cruz echoed Conway's contention that the same people who had demanded that Trump accept the election results are now the ones chanting "Not my president."
"These are now the idiots that are protesting in the street and laying down their bodies in front of cars and disrupting traffic," Cruz said on Fox & Friends. "And... look, we had an election. The people spoke. Democracy is a powerful, powerful way of choosing."
To be exact, Trump became president-elect by defeating Clinton in the Electoral College. She won the popular vote.
Hundreds of demonstrators associated with a group called IfNotNow marched Thursday morning on Trump Tower in Manhattan to demand that Trump rescind his appointment of former Breitbart head Steve Bannon as chief counselor.
Members of IfNotNow, which describes itself as "a movement to end the American Jewish community's support for the occupation and gain freedom and dignity for all Israelis and Palestinians," assailed Bannon as a pusher of hate rhetoric and a proponent of white nationalist and alt-right thought.
The Trump campaign and Breitbart, among others, have sprung to Bannon's defense even as prominent figures, including Vermont Sen. Bernie Sanders, have attacked him as a bigot. 
Ron Dermer, the Israeli ambassador to the United States, told reporters Thursday at Trump Tower that Trump and Vice President-elect Mike Pence are true friends of the country.
Dermer, according to a pool report, made a point of saying he looked forward to working with Bannon.