American Music Awards 2016 start time, channel, performers, how to vote and more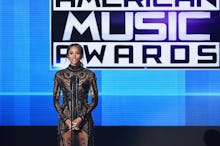 The whole of the pop music world is currently gearing up for the American Music Awards — essentially the Grammys' scrappy younger cousin — airing Sunday, Nov. 20, on ABC at 8 p.m. Eastern. They've got a stellar lineup of performers already announced, including Bruno Mars, who will be bringing music off his fresh 24K Magic; the Weeknd, who's highly anticipated Starboy drops Nov. 25; and Lady Gaga, who will be taking her October-released Joanne out of dive bars and into primetime.
The main difference between the Grammys and the American Music Awards is that the former is decided by a group of out-of-touch industry professionals, and the latter is decided primarily by diehard music fans. Voting for the new artist of the year un-leashed by T-Mobile award (actual real-life award name) will stay open until just before 9 p.m. Eastern. You can vote at the ABC website, as well as through Twitter by tagging the artist, writing out the award they're up for and adding the hashtag #AMAs.
Here's everything you need to know before tuning in.
American Music Awards start time and channel
ABC has been the home of the AMAs since their very beginnings in 1973. Dick Clark created the award show as a way to compete with the Grammys after ABC's hosting contract ran out. They start at 8 p.m. Eastern and are slotted to run the industry standard of three hours.
American Music Awards performances
The American Music Awards follows the basic "all that and the kitchen sink" approach to performance scheduling, pulling in names from every corner of the industry. They've got your pop chart-toppers, including the aforementioned Lady Gaga, the Weeknd, and Bruno Mars, in addition to: The Chainsmokers, Ariana Grande, Shawn Mendes, Maroon 5 and Kendrick Lamar, John Legend and Shakira. This year also has a bit of rock edge, with Green Day, Sting and Twenty One Pilots taking the stage. 
From the hip-hop corner, DJ Khaled will lead a performance of his star track "Do You Mind," which will feature Nicki Minaj, Rick Ross, Future and August Alsina.
In what will likely be one of the night's buzzier moments, One Direction star Niall Horan will follow in the footsteps of Zayn Malik and launch his solo career with a performance of his new single, "This Town." And because no award show is complete without a Justin Bieber appearance, the angsty heartthrob will appearing broadcasting a performance from his Zurich, Switzerland date of the Purpose World Tour.
Fans interested can check out the full list of nominees and learn more about what the night has in store here.