Will Ivanka Trump run for office? What we know about Trump daughter's political aspiration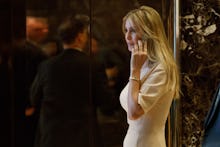 Ivanka Trump has been a major figure in her father's rise to the White House. She gave a powerful speech at the Republican National Convention this summer. She advocates for progressive issues like equal pay for women and affordable child care.
And she's is a member of President-elect Donald Trump's transition team. But does she have political aspirations?
During an interview with CBS' 60 Minutes aired on Sunday, Ivanka Trump was asked if she wanted to be part of the Trump administration.
"I'm going to be a daughter," she said. "But I've said throughout the campaign that I am very passionate about certain issues. And that I want to fight for them... Wage equality, child care. These are things that are very important for me. I'm very passionate about education. Really promoting more opportunities for women. So you know, there're a lot of things that I feel deeply, strongly about. But not in a formal administrative capacity."