What does the secretary of labor do? 5 things you should know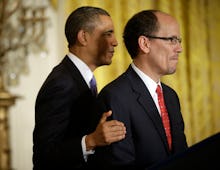 On July 23, 2013, President Barack Obama nominated Thomas E. Perez as the 26th secretary of labor, replacing Hilda Solis, the nation's first Latina Cabinet member. 
For now, it's not clear who President-elect Donald Trump will pick to spearhead the U.S. Department of Labor. Sources point out that Trump is considering a handful of names that include EEOC commissioner Victoria Lipnic, CKE Restaurants CEO Andrew Puzder and Wisconsin Governor Scott Walker. 
But what exactly does the secretary of labor do? Here are five roles the job fulfills:
Head of the Department of Labor
The secretary is in charge of overseeing the Department of Labor, which advocates for the well-being of job seekers, wage earners, and retirees in the United States. It also ensures that all U.S. workers receive the appropriate work-related benefits and rights. 
Career advancement advocate
Recently, Sec. Perez announced the second annual National Apprentice week in November. He called apprenticeship the "other college," which helps boost participants' careers. One of the DOL's missions is to "advance opportunities for profitable employment." 
Labor dispute mediator
In May, Perez brokered an ongoing labor dispute at telecommunications juggernaut Verizon. In a news release, Sec. Perez said that after 13 days of negotiations at the Department of Labor, "the parties have reached an agreement in principle on a four-year contract." 
Legislative advisor
On May 18, Obama and Perez announced the DOL's publication of a rule that updates overtime regulations, which extends overtime pay protections to more than 4 million workers within the first year of implementation. The secretary can propose rules that help shape the Fair Labor Standards Act.  
Congressional testifier
On July 21, 2015, Perez offered a testimony before the Committee on Health, Education, Labor and Pensions to discuss the DOL's proposal to protect workers from conflicts of interest in retirement investment advice.  
According to the Atlantic, the Trump administration may undo many of the DOL rules and executive orders issued during Perez's tenure. However, dismantling the work of the Obama administration would take years.