Detroit reporter resigns after saying she's tired of covering "niggers killing" each other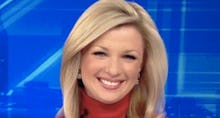 It's happened again: Another white person said something racist and is out of a job because of it. After facing backlash for reportedly using an anti-black racist slur, Lauren Podell resigned from her position on Wednesday as a reporter at local NBC station WDIV-TV in Detroit.
"I'm tired of reporting on these niggers killing one another in Detroit," Podell, 31, said to a colleague, community activist Sam Riddle told Blac Detroit.
WDIV vice president and general manager Marla Drutz announced Podell's decision on Wednesday in an email she sent to employees.
"I wanted to let you know that Lauren Podell has resigned from WDIV effective immediately," the email read. "Lauren asked me to convey the following: 'During my time at WDIV I have created many friendships that I will continue to cherish.'"
This isn't the first time Podell has been under fire for her language. In 2013, Podell cursed while she was live on-air. The video made its rounds on the internet.
"I don't know when we're going, neither does Jim. I can't get this fucking in there!" Podell said.
Yikes.