Kanye West rants about Beyoncé, Jay Z, Hillary Clinton at Sacramento show, walks offstage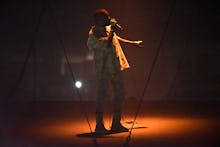 Kanye West is having a lot of feelings in the wake of the presidential election, and he's using his concerts to voice them. The rapper arrived at his Saint Pablo show at the Golden 1 Center in Sacramento, California, roughly an hour and a half late on Saturday night. He performed three songs before beginning a 15-minute rant that ultimately ended the show, according to BuzzFeed. 
West voiced anger at Beyoncé and Jay Z, took swipes at Democratic presidential nominee Hillary Clinton and yelled about Mark Zuckerberg and the radio that "lied" to listeners. 
"I am putting my career, my life, my public well-standing at risk when I talk to y'all like this," West said. "This is a moment in the matrix, bro. Defiance is back." 
The rapper brought up "Formation," which won video of the year at the 2016 Video Music Awards in August, beating out West's "Famous" and Drake's "Hotline Bling." West called out Beyoncé for a rumor he'd heard:
Beyoncé, I was hurt because I heard that you said that you wouldn't perform unless you won video of the year over me and over 'Hotline Bling.' In my opinion — now don't go trying to diss Beyoncé. She is great. Taylor Swift is great. We are all great people. We are all equal. But sometimes we be playing the politics too much and forgetting who we are, just to win. Fuck winning, fuck looking cool. Fuck looking cool. Fuck being cool. Fuck all that, bruh. I've been sent here to give you all my truth, even at the risk of my own life. Even at the risk of my own success, my own career.
He then asked Jay Z to call him, saying he knows that Beyoncé's husband has killers and "please don't send them at my head, just call me." 
West also emphasized the necessity of forward-thinking to "make America great again," to boos from the crowd. "It's a new world, Hillary Clinton," he said. 
The rapper rounded out his tirade with a dig at the media. 
"There's a Richard Pryor interview that you can watch about people coming into power and not changing anything, just becoming part of the power," West said. "That's happening with musicians, 'cause they scared. I'm not scared. I'm here to change things."
"I'm not always gonna say things the perfect way, the right way, but I'ma say how I feel," he continued. "Right now, I would prepare. Right now, press, get ready to write some passive-aggressive, LeBron James racist comments, season four racist comments. Get ready to have a field day, press. Get ready, get ready, 'cause the show's over." He then dropped the mic and walked offstage. 
Concert goers responded with a "fuck you, Kanye" chant:
Despite all his current, Clinton-focused ire, West donated $2,700 to the Democrat's campaign in 2015, according to Fader. Still, West has been critical of the candidate since the election: At a San Jose show on Thursday, he told fans that if he had voted, he "would've voted on Trump," because Donald Trump's tactics were "absolutely genius." Defending Black Lives Matter and women's rights, West praised the president-elect's habit of speaking directly to the people without regard for what West called political correctness.
Sacramento fans didn't seem to appreciate West's statement. Many felt short-changed after they paid for a show but mostly just got a rant. Concert-goers issued calls for a refund on Twitter, eventually circulating a Change.org petition demanding he reimburse the approximately 22,000 people who bought tickets for a performance they didn't get to see. At time of writing, the petition had garnered only 12 signatures.