Here's how much Donald Trump made on 'The Apprentice'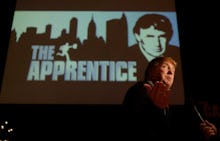 Before he shocked the world with his general election victory, Donald Trump once spent his days critiquing the business skills of hopeful contestants on NBC's hit show The Apprentice. 
Since it's on-air debut in 2004, The Apprentice has had its fair share of spin-offs, including the short lived Martha Stewart addition. No matter what direction the show went, Trump found a way to make a profit. 
In July 2015, CNN reported Trump racked up $213.6 million during his 13 years on the show. The number came from a press release regarding his financial disclosure forms that put Trump's net worth at $10 billion. According to CNN, NBC was not immediately available to confirm.  
According to Money Nation, Trump reportedly earned $3 million per episode for The Celebrity Apprentice. Money Nation reported that it would take over 11,000 people working full time, minimum wage jobs to match Trump's reported salary. 
As much as he'd like to think so, Trump's Apprentice legacy is not a positive one in the eyes of many on set. The Associated Press, out of a line of interviews with 20 Apprentice employees, reported that eight former crew members recalled Trump making lewd comments about a camerawoman's body.
"These outlandish, unsubstantiated and totally false claims fabricated by publicity hungry, opportunistic, disgruntled former employees have no merit whatsoever," Hope Hicks, Trump's campaign spokeswoman, told the AP in October. "The Apprentice was one of the most successful prime-time television shows of all time and employed hundreds of people over many years, many of whom support Mr. Trump's candidacy."
Trump's Apprentice days are, of course, behind him now. The man who coined the slogan "you're fired" has since passed off the title of Apprentice "head boss" to Arnold Schwarzenegger so he can, you know, run the country.