Finally: A bar where women can go and not be hit on by creeps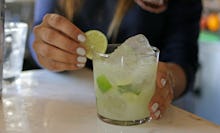 There's something about bars that just attracts bad behavior. 
Of course, drinkers may relax a little after a cocktail or four, and forget social decorum. Or maybe it's the dim lights and weird sense of anonymity people feel in bars that makes them act like complete a-holes. 
Excuses aside, bar owner Matt Piacentini is not having any of that inappropriate behavior in his cocktail bar, the Up & Up in New York City's hip Greenwich Village. At the bottom of every cocktail menu — which offers up $15 drinks like the "Pop Culture Reference" (Suntory Toki Japanese Whisky, Nocino, Pedro Ximénez Sherry, Cahors Red Wine) and The "One-Star Yelp Review" (Reyka Vodka, Montenegro, cachaça, grapefruit juice, lemon juice, Demerara) — is a decorum code, unusual to so explicitly see in any bar.  
While not vaping and leaving your table 45 minutes after your last drink are a few of the rules, one sticks out beyond the typical mandated bar decorum: Gentlemen are kindly asked not to introduce themselves to ladies. 
This isn't the only bar that has instated rules on how to treat women: Nashville's Patterson House also explicitly forbids men from making unwanted introductions to women and England's The Brickyard has a sign posted in the women's bathroom offering exit and escort services for a Tinder date gone wrong. 
When the Up & Up opened in early 2015, the decorum code wasn't printed on the menu, but after witnessing female patrons being bothered by men, Piacentini decided to include the written rules on his cocktail menu. 
"I first saw a rule like this on the original Milk & Honey rules list," Piacentini said in an interview. "When I opened the Up & Up on MacDougal Street, a street known to be a crazy, drunken party area, we knew we'd have to work hard to keep the atmosphere we wanted." 
On earlier versions of the menu, the rule read: "Gentlemen will please refrain from approaching ladies. Ladies are welcome to start a conversation or ask a bartender to introduce you." It was created as a way to designate the bar as a safe space, especially for women. 
"The Up & Up was supposed to be a safe place to go in the area for people looking for a calm, civilized space in which they could be with their friends. A sanctuary, so to speak," Piacentini said. 
At this point, a version of the disclaimer has been on the menu for over a year, and the Up & Up has no plans to remove it.  
"Our saying around the bar is: If you don't understand the rule, then it's meant for you."— Matt Piacentini, owner of the Up & Up
"For the most part, [the response] been positive," Piacentini said. "Quite a few women have said that it makes them feel more comfortable, or that the rule is one of the reasons they come to the Up & Up."
And, as expected, to date, no women have complained about the rule but, "many men have scoffed at the rule, and been rather offended by it," Piacentini said. Why? "Generally they all have the same complaint, which is, what's the point of going to bar if not to pick up on women?" Cool, men. Some people just want to go to a bar to — surprise! — drink. 
"Our view is that such an attitude probably doesn't go hand in hand with appreciation of quality cocktails and good conversation," Piacentini said. "Our saying around the bar is: If you don't understand the rule, then it's meant for you." A good saying indeed. 
While the explicit rule has been in place for almost all of the Up & Up's existence, Piacentini said it's hard to say if it has actually stopped men from "hitting on someone," but he believes that the rule has "been effective in projecting the kind of place the Up & Up is, and the kind of behavior our guests expect of one another." He also thinks it functions well as a "turnoff to people who probably wouldn't appreciate our offerings anyway." Go drink elsewhere, misogynists, this bar is not for you. 
Up & Up has yet to mandate an all-Beyoncé soundtrack, but there's always room for improvement.