Childish Gambino's "Redbone" will help fill the Prince-shaped hole in your heart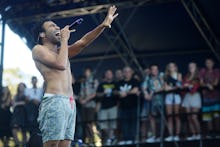 With every song that leaks off Childish Gambino's upcoming Awaken, My Love!, it gets more and more difficult to see the charming hip-hop nerd who got his start by entering his name into a Wu-Tang name generator. Childish Gambino, the hip-hop and R&B alter ego of actor and comedian Donald Glover, dropped his second track from his forthcoming project on Thursday: a smooth fun jam titled "Redbone."
Similar to his previous, "Me and Your Momma," Gambino's voice is nearly unrecognizable — straying from the clear, enunciated flows of his early mixtapes towards a soul-wrenching screeches, reminiscent of the immortal Prince and his student D'Angelo. Hopefully, it will do something to help fill the musical void the Purple One left due to his untimely death in April of this year.
The song debuted on BBC1's Annie Mac Show with the DJ describing it as "oozing with soul." Her estimation is absolutely right on. The instrumentation, led by a plodding slap bass line, leaves a ton of open space for the swaggering syncopated percussion and twinkling glockenspiel to evoke the track's distinct throwback feel.
Once it establishes the groove, it doesn't budge much, with new instruments and a gospel choir adding new layers of intrigue as the song builds to its conclusion. It's a sound that Prince helped popularize and pioneer to a great extent. Yet the song also contains echoes of The Delfonics, Thundercat and the West Coast Get Down's jazz and funk revivalism. Even before his death in April it was already experiencing a bit of a revival through those latter two names, Bilal and through funk's current no. 1 showman, Anderson .Paak.
"Redbone" is a four course meal with dessert and coffee for the soul. It has Twitter absolutely shook.
Keep an eye out for Childish Gambino's Awaken, My Love! coming December 2nd, and stay woke.