Alleged Chelsea bomber Ahmad Khan Rahimi indicted on terrorism charges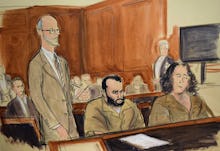 Ahmad Khan Rahimi, the man who allegedly planted bombs in Manhattan's Chelsea neighborhood in New York City and two New Jersey towns in September, has been indicted on terrorism charges by a grand jury in New York.
In a statement released by the U.S. Attorney's Office, Manhattan U.S. Attorney Preet Bharara said Rahimi will stand trial in a federal court for his "alleged violent acts of terrorism."
The statement said although Rahimi has been indicted in New York, he will also face separate charges in New Jersey, where he is accused of placing explosive devices along the route of a Marine Corps charity 5K race in Seaside Park and near the entrance to a train station in Elizabeth, where he had lived.
Police arrested Rahimi in Linden, New Jersey, on Sept. 19 after a shootout with police. According to the statement, a journal found in his possession at the time of his arrest contained praise for Osama bin Laden, the former leader of al-Qaida. 
Rahimi became a naturalized United States citizen in 2011 according to CNN. That year, he also traveled to Pakistan, where he got married. After he became the primary suspect in the case of the September bombings, investigators began looking into his travels to Pakistan — as well as trips to Afghanistan — for information on whether or not he had been radicalized there.