Chipotle is being sued for very misleading calorie counts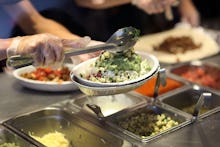 Chorizo, Chipotle's first menu addition since 2014, is at the center of a new, meaty lawsuit. 
On Tuesday, three Californians filed a lawsuit accusing the burrito behemoth of misleading customers with the calorie counts on store signage, My News LA reported.  
One plaintiff in the case realized he was misled by the chorizo calorie count after he felt "excessively full" and realized there was no way the burrito he consumed was "just 300 calories," the publication noted. 
While a check-in with common sense might tell you that a burrito contains more than 300 measly calories, the way Chipotle's signage is arranged makes it seem like dreams do come true.  
A burrito like the one pictured in the sign — with chorizo, black beans, rice, salsa — would clock in at 955 calories according to Chipotle's nutrition calculator, Grubstreet reported. That's over three times the amount listed on the sign. Oops? 
With so many add-ons like sour cream, guacamole, beans, cheese and more, a harmless burrito bowl at Chipotle can go from healthy lunch to heavy feast very fast. According to an analysis from the New York Times, an average order at Chipotle is a little over 1,070 calories. 
Why this is a big deal
If customers are under the impression their chorizo burritos are a mere 300 calories instead of 900-plus, they're unwittingly consuming an extra 600 calories per meal. That could contribute to some serious weight gain: Eating an extra 500 calories each day results in gaining about a pound a week, Livestrong noted, explaining that fluctuations in weight depend on a variety of factors that include calorie consumption, gender, age, activity level and metabolic rate. 
When reached out for comment, a spokesperson for Chipotle said the company does not comment on pending legal actions. 
November 19, 2016, 1:30 p.m.: This story has been updated.