Georgia lawmaker Jason Spencer retracts burqa ban proposal after backlash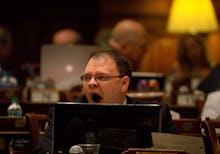 Georgia State Senator Jason Spencer withdrew his bill to ban the burqa, or face veil, on Thursday after receiving backlash for the anti-Muslim policy proposal, the Atlanta Journal-Constitution reported. 
Spencer introduced House Bill 3, a piece of legislation prohibiting women from wearing the burqa in public places on Monday. The bill also required women to unveil themselves for state photo identification purposes.
"The government has no business preventing Muslim women from wearing face scarves in public," Senate President pro tem David Shafer said in an interview with Atlanta Journal-Constitution. "Too many people on both sides of the religious freedom debate only want to protect freedom when it comes to their own beliefs."
In a statement published on the AJC, Spencer said he has no reason to believe his bill is unconstitutional.
"While this bill does not contain language that specifically targets any group, I am mindful of the perception that it has created," the statement read. "My objective was to address radical elements that could pose a threat to public safety. However, further consideration dictates that other solutions will need to be considered."
This isn't the first time there's been controversy in Georgia over an Islamic garment for women. In 2008, Douglasville Municipal City Judge Keith Rollins jailed a Muslim woman for refusing to disrobe her hijab (or headscarf) to court, the Guardian reported. She was sentenced to 10 days in jail. He also prohibited another Muslim woman from entering the court room for wearing the hijab.