The Weeknd drops Daft Punk-assisted "I Feel It Coming" and "Party Monster"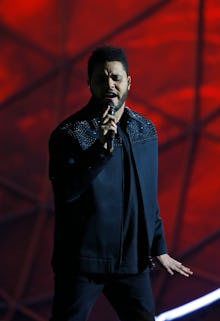 Electronic music's greatest masked duo and the man with the most headline-grabbing haircut in pop are back for another round.
Pop R&B's premiere debauchee dropped a second track featuring Daft Punk, titled "I Feel It Coming," off his upcoming LP Starboy, late Thursday night. It came with another in tow, the fourth release off the album, "Party Monster."
The Daft Punk track is a surprisingly bright, laid-back synth pop jam, reminiscent of How to Dress Well or Talking Heads' light tropical synths. The second, "Party Monster," shows the Weeknd operating in a far more familiar mode: It's yet another frenetic, dark, pseudo-psychedelic club banger, such as we've come to expect out of the artist's labs.
Earlier Thursday evening, the Weeknd also released the track list for his upcoming Starboy, including its intended features. To help him with his latest transformation, he's tapped two of hip-hop's finest, Kendrick Lamar and Future, as well as Lana Del Rey, whom he collaborated with before on the Beauty Behind the Madness track "Prisoner" and, of course, Daft Punk.
The electronic duo previously appeared on the album's title track "Starboy," the song that first introduced us to the cleaner cut, but arguably more sinister Weeknd.
Thursday's two offerings are the third and fourth tracks the Weeknd has released, following "Starboy" and the electropunk whirlwind "False Alarm." 
Each has built on the notion that Starboy will contain a far more eclectic array of sounds and styles than we're used to hearing from the Canadian artist. He told fans to be ready for just about anything in a September interview with VMan magazine, still his only major profile leading up to the release thus far.
"There are new inspirations on this album," he told the magazine. "The production feels aggressive but still sexy. The Smiths, Bad Brains, Talking Heads, Prince, and DeBarge play roles." 
The latest two tracks hit on some of these influences, but we've yet to hear a track with Bad Brains' distinctive hardcore and reggae sound. There are still 14 tracks still to come, however.
Listen to clips of "I Feel It Coming" and "Party Monster" in the Instagrams above and below, or in full on iTunes here, and stay tuned for the arrival of Starboy on Nov. 25.