Bruno Mars '24K Magic' Track List: Top 3 songs from the new album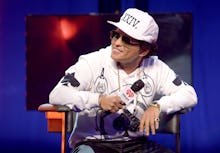 On 24K Magic Bruno Mars seemed to have one goal and one goal only: turn the '80s, luxury pop and soul he crafted on "Uptown Funk" into a lifestyle. 
Mars' latest album, 24K Magic, his first in four years, attempts to copy and paste the wild success of "Uptown Funk," his song with Mark Ronson that nearly broke the record for most weeks at no. 1 on the Billboard Hot 100. The album is essentially nine different versions of the anthem — some more boastful, some more tender, but all of them braggadocios beyond belief.
None of the tracks seem poised to go bigger than the the "Funk," but there are standouts nonetheless. They brim with slick melodies and the occasional clever lyric in Mars' sea of satin sheets and cheese. Below are three of the best.
"24K Magic"
The album's title track is one of the strongest and catchiest of the bunch. It perfectly encapsulates the vibe Mars was going for, which can be summed up succinctly as luxurious escapism.
"I wanted to create my world," he told the Herald Sun of the album. "I wanted to envision me and the band dancing, draped in Versace and gold, and my hair spraying people in the audience. It was more of a sweatier party, and I wanted the songs to feel like that."
Listening to "24K Magic," and its careful instructions on how to utilize one's pinky rings to maximum effect, it's hard to see anything else.
"Perm"
24K Magic's second track, "Perm," serves up one of the most fitting examples of Mars' signature sleaze. Pretty much the entire course of the album's narrative can be summed up into one lyrical boast:
I bet you want an autograph
Oh, Bruno — you are a slick one. The beat is solid, though, and shows that Bruno Mars is a dedicated student in the school of James Brown. He even manages to make the godfather of soul brazen lyrical styles seem quite poetic and subtle in comparison.
"Calling All My Lovelies"
On "Calling All My Lovelies," Mars pulls out one of the corniest power moves in his Gucci bag: He includes a recording of Halle Berry's voicemail greeting. "Hi you've reached Halle Berry," the recording of the actress recites. "Sorry I can't get to the phone right now but if you leave your name and number, I'll get right back to you — [kissing sound]." 
She's apparently the girl he's been trying to call and has been getting stonewalled by. Mars follows up the recording with a well-placed "Damn." The track has some of the most stunning vocal harmonies on the nine-track work and is a welcome knock to Mars' runaway ego — which, by the next song, "Finesse," is charging right back onto the dance floor.