Bruno Mars '24K Magic' Lyrics: The cheesiest and sleaziest lines from his latest album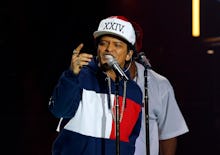 Someday, colleges across the nation will likely be teaching Kendrick Lamar's To Pimp a Butterfly, Frank Ocean's Blonde and Beyoncé's Lemonade as texts to be read and enjoyed as literature. Bruno Mars' 24K Magic will never achieve the same distinction, and across the album's nine tracks, it seems Mars is damn proud of that fact.
Released Friday, Nov. 18, Bruno Mars' 24K Magic is a lighthearted album filled with party tracks and sumptuous ballads. It offers a delicately manicured middle finger to the idea that lyrical excellence is how you put together a great album in 2016. Slamming together barrels of greasy-but-endlessly-quotable lines about pinky rings, soiled Versace dresses, hair weaves and big old hoops is still a fine way to craft a record. It always has been, and Mars pulls it off with style on 24K Magic.
Here are some of the boldest, raunchiest (always in a PG-13 sort of way) lines on the album.
"24K Magic"
Don't look too hard might hurt ya'self
"Perm"
I bet you want an autograph
It's hard at times to see this album as anything other than one long pick-up line set to slick, slightly overproduced soul. But hey, "Uptown Funk" proved there's a market for it.
"That's What I Like"
Gold jewelry shining so bright
"Straight Up and Down"
This liquor got both of us faded, so gone, so gone, so gone
"Calling All My Lovelies"
Hi you've reached Halle Berry. Sorry you can't get to the phone right now but if you leave your name and number, I'll get right back to you *mwah*
It's not exactly a lyric, but including a snippet of Halle Berry's answering message on your track is the ultimate sleazeball power move.
"Too Good to Say Goodbye"
I've made mistakes
Sometimes you have to turn the player off for a minute and actually speak from the heart. Mars doesn't bother doing so until the album's very last track "Too Good to Say Goodbye." But as the song's lyrics seem to suggest, his entreaties now may be too little too late.