Trump names Michael Flynn, who has called Islam "a cancer," national security adviser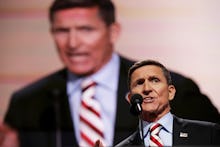 President-elect Donald Trump has offered the role of national security adviser to retired Lt. Gen. Michael T. Flynn — a man who has previously called Islam "a cancer" and declared that he is "at war" with the religion.
The appointment was officially announced in an emailed statement issued by Trump's transition team Friday morning.
"I am pleased that Lieutenant General Michael Flynn will be by my side as we work to defeat radical Islamic terrorism, navigate geopolitical challenges and keep Americans safe at home and abroad," Trump said in the statement.
Flynn, whom Trump kept close counsel with throughout his campaign, will hold one of the nation's most pivotal positions in shaping foreign policy should he choose to accept the post. 
Previously, Flynn served as President Barack Obama's director of the Defense Intelligence Agency, but was fired after just two years amid reported clashes in leadership style, CNN reports.
At the Republican National Convention in July, Flynn delivered an incendiary speech about the security threat he claimed Democratic presidential candidate Hillary Clinton's private email server posed to the United States.
But Flynn faced questioning over his own handling of classified information at least twice during his military career, CNN reports, after he allegedly shared confidential information about American troops with Pakistan during his time overseeing intelligence in Afghanistan.
When questioned on the veracity of the claims, Flynn told CNN, "It is not true ... not even close," but declined to give further comment.
The New York Times reported that Obama and Clinton's continued refusal to say the words "radical Islam" stood in stark opposition to Flynn's view that Islam, which he considers to be a political ideology and not a religion, is the chief threat facing America.
The announcement of Flynn's appointment comes just four days after Trump tapped Steve Bannon — a man who has publicly made derogatory comments about Muslims, as well as women, Asians, Jews and the LGBT community— to serve as his chief strategist.
Nov. 18, 2016, 10:30 a.m.: This story has been updated.