Ivanka Trump sits in on meeting with Shinzo Abe, raising conflict of interest questions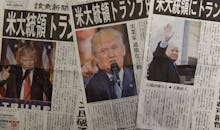 President-elect Donald Trump's meeting with Japanese Prime Minister Shinzo Abe on Thursday is raising red flags — not because of what was said, but because of who was in attendance.
Trump's daughter, Ivanka Trump, sat in on the meeting between the two world leaders, according to a photo the transition team released. Trump's team did not allow press access to the sit-down, which was Trump's first with a foreign leader since the election.
Ivanka's inclusion in the meeting is casting doubt that Trump and his family will take the adequate steps to prevent conflicts of interest with the family's vast business empire.
Trump attacked Hillary Clinton throughout the campaign for using her government connections to enrich herself. But by allowing his daughter — who is running his business empire — to sit in on meetings with world leaders, he's doing exactly what he campaigned against.
In order to avoid conflicts of interest, Trump said Ivanka and her siblings, Donald Trump Jr. and Eric Trump, would run the Trump Organization while he serves as president.
But her inclusion in the meeting with a foreign leader breaks whatever barrier Trump had intended to set up — giving her the same access to information the general public would not know, which could give the Trumps an unfair and illegal business advantage.
Ivanka's presence in the meeting comes after reports that Trump's team asked for top security clearances for his children and Ivanka's husband, Jared Kushner.
The transition team denied that Trump had asked for them to receive security clearances, and the campaign pinned the ask on a low-level staffer. Kushner, however, is widely believed to be in the running for a top White House post.
Bringing Kushner into the White House could violate long-standing nepotism laws, which bar a president from appointing or employing family members while serving as president.