This company wants to create nude bras that can perfectly match any skin tone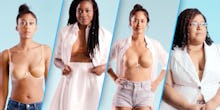 In the fashion world, the word "nude" has long been associated with the light beige shade you see on a Band-Aid or an Ace bandage. That shade, however, only matches the skin tone of very light-skinned people. Over the past few years, designers and brands of lingerie brands have stepped up to redefine what "nude" really means, ensuring that more of their customers can actually buy a nude bra that works for them.  
First up was the lingerie brand Nubian Skin, which launched in 2014 and offered people who didn't have that light peachy skin bras and underwear to match their skin tone. In 2016, the lingerie brand Naja produced a wide range of "nude" tones for its bra and underwear too. 
Now, there's the company TruNude, which uses selfies and measurements to produce a custom range of colors for bras and underwear, with the goal of offering people the most inclusive and custom bras possible. 
The idea for the company came to founder Danai Pointer after struggling to find a bra in her skin tone for various different weddings. 
"I was in three weddings. I'm a busty girl," Pointer said. "I grew up in Brooklyn and I was looking for something that would match my skin tone to wear under these dresses. I went to a specialty store and I finally found bras that made me feel good, but when I wanted them in my skin tone and they said 'That's not going to work.' So the notion that here we are, in the 21st century, and you can't find a nude that matches you and we have such a diverse population — [that's what] really started it all."
Over the past year, Pointer has been trying to find an easy way to get people with breasts bras that match their skin tones and actually fit them. So, naturally, she looked to technology for help. 
Here's how it works: A person downloads the TruNude app (which is set to launch in May 2017), takes a picture of their skin in particularly good lighting and then the app generates their color code. For sizing, the user inputs their exact measurements into the app, and then TruNude takes it from there, creating the bra in that particular shade with the person's measurements in mind.
Pointer says that their bra sizes would range for an EU AA to an EU M, which is equivalent to an AA to an L in the United States. As far as price points, its T-shirt bra will be $99 and a bralette will be $50. 
Pointer thinks that designers and brands are increasingly feeling like they have to provide more options, in part, because society is only getting more diverse. Still though, she wants more people to have more options for garments that can actually match their skin. 
"I think because there are so many people who don't look the same," Pointer said. "It's not just an issue that I've seen. More representation is better and the way of the future, and I think companies need to catch onto that and start thinking about who their audience are. Nubian Skin and Louboutin [who released a variety of nude shoes] are amazing. We just want to provide more options."
Currently, the brand is seeking funding on Kickstarter and with eight days to go, has just $3,000 left to raise to reach its $20,000 goal. 
Pointer hopes that the people who help fund the campaign will get their first bras in May. So, looks like the future of bras is just a few months away.