'The Walking Dead': How to watch season 7, episode 5 online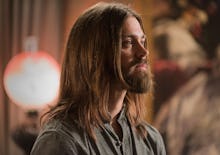 The good news for any fans of The Walking Dead that assumed Maggie actually died after the harrowing events of the season seven premiere: She's alive. The show hasn't checked in on Maggie since the premiere — and Alexandria created a fake grave for her when Negan visited — but the fifth episode of season seven, "Go Getters," looks to focus on Maggie and Sasha at the Hilltop Colony. 
Unfortunately, just as every episode of season seven — and we've been to a lot of communities already — the Saviors' presence looms heavy. This appears to be the case for Maggie and Sasha as well, according to the synopsis for episode five, per AMC: 
Surrounded by enemies and saddled with grief, members of our group hope to find safety at the Hilltop before it's too late.
But for fans without a TV who want to be treated to Maggie, Sasha and Jesus' ever-perfect hair, how can you watch the episode online? 
Unfortunately, the options are quite limited for those without a cable subscription. Granted, the first six seasons are currently on Netflix, but season seven won't be available until 2017 (and you certainly don't want to wait that long). Hulu's next-day streaming partnership with AMC only includes shows that premiered after the deal was set in place, meaning The Walking Dead is excluded from this perk. 
Individual episodes can be purchased the day after the episode airs, aka Monday, on iTunes, Amazon and Google Play. For non-cable users, it's your best bet. Similarly, the episodes are available to stream online — though you'll need a cable login to access that, too. 
In any case, you'll definitely want to catch the episode ASAP to get answers to the most pressing questions the show has to offer. How has Maggie handled Glenn's death? Will she and Sasha be accepted by the Hilltop and their leader, Gregory? What will the Saviors do the Hilltop? Most importantly, how does Jesus maintain his beautiful hair in the zombie apocalypse? 
We need answers, AMC.