Model Nyle DiMarco on what fashion needs to do better to push diversity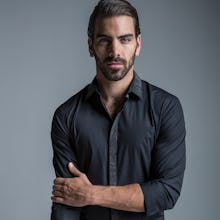 If 2015, when he won the final season of America's Next Top Model, and 2016, when he won Dancing With the Stars, are any indicator, 2017 will surely be a big year for model, actor and activist Nyle DiMarco. 
Despite appearances on the Armani runway in Milan, campaigns for 2(x)ist and an appearance on Hulu's Difficult People, DiMarco still found time to launch his very own namesake foundation earlier this year. The Nyle DiMarco Foundation's goal is "to make the world a better place for all Deaf people and their families." 
DiMarco himself is not only the first deaf winner of two hit reality television shows, he's also the spokesman for Language Equality and Acquisition for Deaf Kids and a signer and creative collaborator on the ASL App, an app created to teach conversational American Sign Language.
On Thursday night, Mic caught up with DiMarco at an event he was hosting for INC International Concepts Men's Night Out.
"I definitely feel like 2016 witnessed a lot of change. I think people are more open now, and it's pretty hot right now with social media and how we can actually use that to benefit people and help make diversity more mainstream. In 2017 I'm hoping that we can inspire more directors, writers, people in the fashion world and Hollywood to include more diversity and to make sure it's authentic."
But does he think fashion, on the whole, has been at the forefront of this increased push for greater diversity?
"It's never enough. I want to see more. I know there a lot of deaf people who are beautiful and they need to be included. I'm one, that does not mean I should be the only one. I think we can represent more deaf people from within the deaf community. There are so many people out there that are qualified to do this, I don't think you should just have that one person as a token."
The sexually fluid hunk also offered advice for LGBTQ people under the upcoming Trump and Pence administration, which threatens to derail much of the progress made over the last decades, including the passing of Obergefell v. Hodges, allowing for same-sex marriages, and the Obama administration's historic mandate allowing transgender students to use the bathroom that matches their gender identity.
"I think my advice for them, and I say this over and over again, always embrace yourself. Embrace your identity. If there's something that you're struggling with, you're not going to be able to succeed in life until you find and embrace that difference that way you can use that as an asset to your success. For instance, as a deaf person, a lot of people might look at that as a negative. But for me, I love being deaf. I look at it as an asset. I think you have to shift the perspective. And remember to speak your mind. Always speak up."
Next up for DiMarco? Besides a possible signature clothing line, he's working with senators to hopefully write legislation and pass a bill that would encourage deaf children to learn both English and American Sign Language from birth.