'Pokémon Sun and Moon' may be coming to the Nintendo Switch — here's everything we know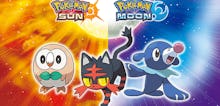 According to multiple sources, Pokémon Sun and Moon will appear on the Nintendo Switch — a sweet incentive to buy Nintendo's console-handheld system in 2017.
Pokemon Sun and Moon is the next game in the long line of "main" Pokemon games that appear on handheld Nintendo systems like the Game Boy or DS line. You usually can't play these games without some sort of Nintendo handheld. Not so with Pokémon Sun and Moon. According to Eurogamer, you'll be able to play Sun and Moon on your Nintendo Switch home console, as well.
Pokémon Sun and Moon on the Nintendo Switch makes all the sense in the world
Nintendo Switch follows on the heels of Wii U, which underperformed in the marketplace and had a dearth of third-party support. Major publishers like Electronic Arts have already expressed concerns about how broad the audience for the Nintendo Switch will be. The Legend of Zelda: Breath of the Wild will not be a launch title for the system.
Nintendo needs the Switch to make a splash at launch in order to reset the narrative about new Nintendo home console systems. Releasing Pokémon Sun and Moon on the Switch might go a long way toward putting Nintendo's new console on the right track, provided enough Pokémon fans who purchased Sun and Moon for the Nintendo 3DS will also purchase a copy of the game for the Nintendo Switch.