Donald Trump selects Rep. Mike Pompeo as the new CIA director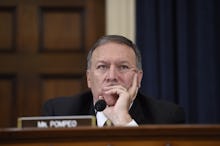 President-elect Donald Trump has named Kansas Rep. Mike Pompeo as the next director of the CIA, Trump's transition team announced in an emailed press release Friday morning. 
"I am proud to nominate Congressman Mike Pompeo as Director of the Central Intelligence Agency," Trump said in the announcement. "He has served our country with honor and spent his life fighting for the security of our citizens."
Pompeo, the third-term Tea Party Republican Representative, was initially a supporter of Marco Rubio in the presidential primaries before turning his support to Trump, even helping Vice President-elect Mike Pence prepare for the debate against Hillary Clinton's running mate, Tim Kaine. 
He's been an outspoken critic of the historic diplomatic, nuclear deal struck with Iran in July 2015 by President Barack Obama's administration and has vowed to undo it — reaffirming his position on Twitter just one day before his nomination as CIA director was made public.
Trump has been similarly vocal in his disdain and disapproval for the deal, suggesting the two are at least somewhat aligned in foreign policy. 
Earlier on Friday, news broke of Trump's reported decision to nominate Sen. Jeff Sessions, R-Ala., for attorney general, a deeply contentious choice given Sessions' track record with racism towards blacks. 
Sessions and Pompeo's potential appointments — which need to and will likely be approved by the Senate, given the GOP majority — suggest Trump is assembling an administration of Republicans who occupy the far-right wing of the party.
Nov. 18, 2016, 10:15 a.m.: This story has been updated.