Apple might move iPhone production to the United States — but costs could double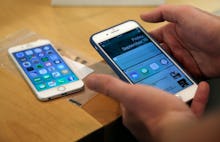 Apple — the eighth largest company in the world — is considering moving production of its flagship device back to the United States, according to a report from Nikkei Asian Review.
According to Nikkei's unnamed sources, Apple has asked its two biggest assemblers, Foxconn and Pegatron, to look into moving the production of the 200 million iPhones they churn out each year to the U.S. 
Pegatron immediately declined, one source told Nikkei, citing costs. Foxconn, who generates half of its sales through Apple contracts, obliged but was still pessimistic about what that would mean for production costs.
"Making iPhones in the U.S. means the cost will more than double," a source told Nikkei. 
Yet supporters of President-elect Donald Trump were quick to cite the rumors as an early victory, given his tough talk about bringing jobs back to America. Trump said at a January address before Liberty University students that Apple should "build their damn computers and things in this country."
One big problem is that higher costs could cause a big price hike on an already-expensive product. The latest iPhone model retails for $649, and even CEO Tim Cook has suggested the phones might be too pricey right now for the company to break into certain consumer markets, like India.
Higher production costs would not just be because labor is cheaper in China than in the U.S. 
"In no other country can you scale up so quickly," said John Dulchinos, vice president of electronics supplier Jabil, to the Wall Street Journal. "You have the ability to move quickly and there's a really strong electronics supply chain in Asia centered around China."
In other words, moving production back to the U.S. creates costly complications: The memory chips in Apple devices are made in South Korea, the displays are made in Japan, and the devices are assembled in China by companies based in Taiwan. 
That's why simply slapping a 45% tariff on Chinese imports isn't a magic wand that will suddenly make American manufacturing more competitive again.
A scary consequence, in fact, could be a trade war — which China has already intimated is a possibility: An editorial from the state-backed Chinese newspaper, the Global Times, lays out the ways in which China might retaliate against tariffs. 
"A batch of Boeing orders will be replaced by Airbus. U.S. auto and iPhone sales in China will suffer a setback," the newspaper wrote. "US soybean and maize imports will be halted. China can also limit the number of Chinese students studying in the U.S."
Despite these issues, Trump supporters have taken recent headlines as a sign that Trump is already saving American jobs.
Not only is celebration about Apple premature, but the belief that Trump is keeping car manufacturing jobs in the U.S. is also based on misinformation: On Thursday night, Trump bragged about convincing Ford to keep an auto manufacturing plant in Kentucky — but that factory reportedly had no intention of leaving in the first place.
Representatives from Apple did not immediately respond to a request for comment.