George Takei op-ed recalls Japanese internment in wake of Trump's Muslim registry proposal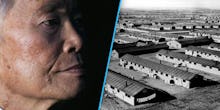 When Fox News anchor Megyn Kelly interviewed Donald Trump-supporter and Navy SEAL Carl Higbie on Wednesday about the president-elect's plans for a Muslim registry, he talked about Japanese internment not as a dark mark on American history, but as the very precedent that could justify such a policy.
"We did it with Iran back a while ago, we did it during World War II with Japanese," Higbie said. In a later interview with the New York Times, Higbie didn't waiver in his stance, saying that while some decisions may not be "politically popular" they're necessary for reasons of national security. 
Kelly admonished Higbie for suggesting the United States return to the "days of internment camps."
Actor George Takei remembers that time well. In an op-ed for the Washington Post, Takei recalled being forced into internment with his family at gunpoint when he was just five years old. 
"Really, it was a prison: Armed guards looked down upon us from sentry towers; their guns pointed inward at us; searchlights lit pathways at night," Takei wrote. "We understood. We were not to leave."
Given his young age at the time, Takei said he didn't fully understand the gravity of his experience until later on, when he realized what had happened to him and his family had been a direct violation of the Constitutional guarantee of equal treatment for all citizens.
Now, Takei worries America is on the brink of history repeating itself.
"It begins with profiling and with registries, but as Trump and Higbie have made clear, once the safety of the country is at stake, all safeguards are off," he wrote. "In their world, national security justifies actions that are 'sometimes not right,' and no one really can guarantee where it will end."
Since Trump first announced his plans for a "total and complete shutdown" of Muslims entering the U.S. in December 2015, the candidate has wavered on whether he would ever implement such an extreme measure. In March, Trump specified that he would make an exception for his "very rich" Muslim friends. 
Immediately following his presidential win, though, his statement on the Muslim ban temporarily disappeared from his campaign website, causing many to wonder whether he had abandoned his proposal. It was restored hours later. 
In the latest development, a Tuesday report from Reuters said that Trump's transition team had indeed been discussing establishing the Muslim database.
In his op-ed, Takei emphasized that these policies would strip Muslims of their most basic liberties — in addition to proving ineffective at protecting the country from terrorism.
"The stigmatization, separation and labeling of our fellow humans based on race or religion has never led to a more secure world," Takei wrote. "But it has too often led to one where the most vulnerable pay the highest price."