Designer issues a powerful call to the fashion industry not to dress Melania Trump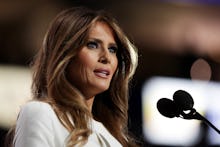 Designer Sophie Theallet's ornately printed dresses have been worn by Anna Wintour, Gabrielle Union, Ashley Graham, Alicia Keys, Leslie Jones and even Michelle Obama. Seemingly, Theallet's designs are for and have been worn by various types of women, whether they be tall or small or straight sized or plus sized or movie stars or musicians or models or first ladies. 
But now Theallet wants to make sure one woman never, ever wears her clothes: Melania Trump. 
In a letter posted on her Twitter account, the designer announces her refusal to dress the incoming first lady, and calls on her fellow designers to pledge to do the same. 
"The Sophie Theallet brand stands against all discrimination and prejudice. Our runway shows, ad campaigns, and celebrity dressing have always been a celebration of diversity and a reflection of the world we live in," the letter reads. 
As an immigrant herself, born in France, Theallet says she had no problem dressing Michelle Obama, because she has "contributed to having our name recognized and respected worldwide. Her values, actions and grace have always resonated deeply within me."
But in the case of Melania Trump, things are different. 
"As one who celebrates and strives for diversity, individual freedom and respect for all lifestyles, I will not participate in dressing or associating in any way with the next first lady," Theallet writes. "The rhetoric of racism, sexism and xenophobia unleashed by her husband's presidential campaign are incompatible with the shared values we live by." 
She concludes the letter by pushing for her peers in the fashion industry to act accordingly: "I encourage my fellow designers to do the same. Integrity is our only true currency." 
Trump finds herself in an odd situation. First ladies have had a history of being adored by the fashion industry. Vogue went so far as to endorse Hillary Clinton and Michelle Obama has not only launched the careers of young designers like Jason Wu, but designers have rushed to create her custom gowns. 
Now though, because of her husband's rhetoric, Trump is facing hostile members of the fashion industry who are actually concerned that being associated with the Trump White House could mar their careers. The way in which she's avoided any real conflicts with designers thus far is because, while she obviously has obviously worn many a designer ensemble on the campaign trail, she has opted for buying the clothes herself, not working with the designers. 
Although Theallet is the first designer so far to specifically speak out against working with the future first lady, we doubt she'll be the last. 
Mic has reached out to Sophie Theallet for further comment.