Here's your chance to watch every 'Gilmore Girls' episode before the Netflix premiere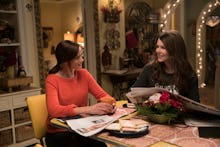 The new season of Gilmore Girls – four 90-minute episodes for each season of the year — will finally make its way to Netflix on Nov. 25. But before this happens, you can binge-watch each and every episode of the show starting Friday at 6 p.m. Eastern on UPtv. 
Sure, you can just watch every existing episode on Netflix, but the UP marathon gives you the rare opportunity to watch the mother-daughter dramedy on TV, as it unfolds. There's something about that experience that's impossible to replicate through streaming. 
The 153-hour "binge-a-thon" will (smartly) come to a close Nov. 25 at 3 a.m. Eastern, the moment that Netflix drops the new episodes. 
"We wanted to gift our audience with the ultimate catch-up event with added extras like trivia and contests," UP's EVP and General Manager Amy Winter told Entertainment Weekly. "Our viewers are massive fans of Gilmore Girls, so we're going all Gilmore all the time for an entire week." 
Although the Netflix reboot is still a week away, reviews of Amy Sherman-Palladino's revival have been mostly positive. 
"Unlike other nostalgia-mining continuations, Gilmore Girls returns with enough novel ideas, authentic developments, and integrity of character to justify its existence, along with being pretty darn fun throughout," Indiewire's Ben Travers wrote.
"It's a better, bolder, more fulfilling capper to a beloved series that finished just-okay back in 2007, produced without creator Amy Sherman-Palladino and husband Daniel Palladino," EW said in its review.
Watch the earliest of Stars Hollow days on Friday. Or, if you want to jump around on Netflix, check out our ultimate Gilmore Girls episode guide.