6 xenophobic things Trump's national security adviser Michael Flynn has said in the past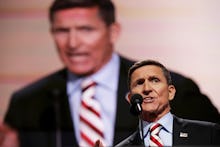 President-elect Donald Trump officially announced the appointment of Lt. Gen. Michael Flynn as his national security adviser in an email statement released Friday morning.
Flynn served as the director of the Defense Intelligence Agency from July 2012 to August 2014. The Army major general, who is a registered Democrat, once called President Barack Obama, the man who appointed him as the defense agency's director, a "liar." He also turned heads at the Republican National Convention in July when he let his infamous quick-tempered nature take the wheel.
"Lock her up! Lock her up! Damn right! Exactly right!" Flynn shouted at the RNC crowd, encouraging their chants to imprison Hillary Clinton. 
The newly appointed national security adviser has made some of the most racist, anti-Muslim and xenophobic statements. Take a look:
1. "Islam is a cancer."
In August, Flynn gave a speech at an event sponsored by the anti-Muslim lobbying organization ACT for America. During his remarks, he made controversial claims about Islam.
"Islam is a political ideology," Flynn said. "It definitely hides behind this notion of being a religion.
"[Islam] is like cancer. It's like a malignant cancer."
2. "I've been at a war with Islam."
According to a video archive broadcasted by Al Jazeera, Flynn said to an interviewer that he was fighting a war against Islam — rather than deviant groups like al-Qaida or the Islamic State group, or ISIS.
"I've been at war with Islam, or a, or a component of Islam, for the last decade," Flynn said. 
3. Flynn tweeted a link to a YouTube video titled "Fear of Muslims is rational."
Flynn tweeted a link in February to a YouTube slideshow video that spewed many anti-Muslim conspiracy theories. The video claimed that Islam wants "80% of humanity enslaved or exterminated," without providing any evidence. It also makes extremely Islamophobic claim that "all terrorists are Muslim," conveniently ignoring the fact that white extremists have killed more Americans since 9/11 than radical Islamists.
4. Flynn laughed and clapped when Don King said "nigger" during a pro-Trump speech.
During a Trump event in September at a church in Cleveland Heights, Ohio, boxing promoter Don King used a racial slur in his introduction speech for Trump. While the use of the slur was ill-timed and inappropriate, Flynn's reaction was quite appalling. Flynn, pictured next to a black woman, is seen clapping and laughing along as King uses the anti-black slur.
Here's the transcript of King's speech:
"I told Michael Jackson, I said, 'If you're poor, you're a poor negro.' I would use the n-word. 'But if you're rich, you're a rich negro. If you are intelligent, intellectual, you're an intellectual negro. If you're a dancing and sliding and gliding nigger,' — I mean negro! "You're a dancing and sliding and gliding negro. So dare not alienate because you cannot assimilate. You know, you're going to be a negro till you die."
5. Flynn shared an anti-Semitic tweet.
In July, Flynn shared a blatantly anti-Semitic tweet while implying that the Democratic Party will do anything they possibly can to ensure Clinton wins the presidency. The original tweet he retweeted included the text "not anymore, Jews. Not anymore."
After a few hours of retweeting, he deleted the tweet and issued an apology. He admitted it was a "mistake," and said his only intention was to share the video attached to the original tweet.
6. Flynn and his son share numerous anti-Obama and anti-Clinton fake news on social media.
Flynn's son, Michael Flynn Jr., has a no-holds barred approach in airing his disapproval of key Democrats. In fact, he has promoted conspiracy theories and white supremacist memes on his social media profiles.
In October, Flynn Jr. shared a post from a fake news site claiming that Obama flaunted his genitals to female reporters on a campaign flight, CNN reported. The post has since been deleted. Flynn Jr., who also serves as Flynn's chief of staff, also claimed that Clinton's senior aide Huma Abedin had an allegiance to the Muslim Brotherhood. He also tweeted that the only reason why minorities voted for Obama was because he is black.