iOS bug lets people see your photos and texts without unlocking your iPhone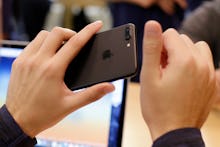 A recently discovered bug allows anyone to view an iPhone's photos and texts without unlocking the home screen. You just need to be in possession of a device that's running iOS 8 or newer and utilize the magic of Siri. No special coding required. 
EverythingApplePro and iDeviceHelp each posted videos that explain the whole process — as well as a simple fix to protect yourself from the bug.
How the bug works
In order to exploit the bug, you need to call or FaceTime the phone you intend to breach. When you see the incoming call on the device, press the message icon and then tap "custom message" to prompt a reply. 
From here, you can activate Siri. Say, "Turn on Voice Over." Now, here's the hard part: You need to double tap the recipient field for the name while simultaneously pressing a random key on the keyboard. If successful, a "to" field should allow you to search through the phone's contacts. Tell Siri to "turn off Voice Over" now. 
Now, you can press the "i" button next to the contact to reveal its details, which in turn will allow you to create an entirely new contact. From here, you can choose the option to add a photo to that contact, which will grant access to the iPhone's camera roll. Now you can see the entire phone's photo album. 
How to protect yourself from the bug
Even though this hack takes a bit of time and alone time with the target's phone, it's worth protecting yourself with this simple step: Settings > Touch ID & Passcode > disable Siri on the lock screen.