Donald Trump settles Trump University lawsuits for $25 million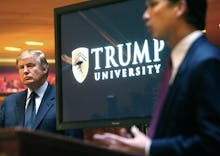 President-elect Donald Trump has reached a $25 million settlement agreement in the fraud lawsuits against his failed for-profit Trump University, NBC Nightly News reported. 
In a statement, New York Attorney General Eric Schneiderman said the settlement will ensure that "every victim will receive restitution and that Donald Trump will pay up to $1 million in penalties to the State of New York for violating state education laws."
"Donald Trump fought us every step of the way, filing baseless charges and fruitless appeals and refusing to settle for even modest amounts of compensation for the victims of his phony university," he wrote.
The president-elect had three pending fraud cases against him, two of which were brought in California and one in New York, according to the New York Daily News.
Former students of the university testified to having paid up to $35,000 in some instances in the hopes of learning what the school advertised as Trump's real estate "secrets" from "hand-picked" instructors. But according to the 2013 civil lawsuit filed by Schneiderman, not only was the university not accredited in New York, neither its seminars nor its professors were actually vetted by Trump himself. 
"If you look at the facts of this case, this shows someone who was absolutely shameless in his willingness to lie to people, to say whatever it took to induce them into his phony seminars," Schneiderman told CNN in June. "Telling people who are in hard economic times — we're talking about 2008, 2009 —people desperate to hold onto their homes, to make some money, convincing them that he will teach them his entrepreneurial secrets."
"It's fraud." Schneiderman told CNN. "This is straight up fraud."
According to Time, Trump once expressed reluctance to settle the case out of court, claiming that the option had been presented to him and that he had turned it down.
"I don't know when the case goes," he said. "But it's a case that I could have settled and I'd rather go to court."
Trump also once proclaimed in an interview with NPR that he is a person who only settles lawsuits on "very rare" occasions, "because once you settle lawsuits, everybody sues you — very simple."
Nov. 18, 2016, 4:46 p.m. Eastern: This story has been updated.