'Civ 6' Fall Update Notes: New maps, multiplayer, bug fixes and more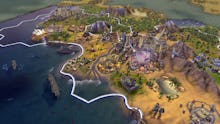 Have you had enough of beating up on computer opponents in Civ 6 and instead want to kick some human players around? If so, get excited about the first major update for Civ 6.
Civ 6 Fall Update Notes: New maps and scenario for multiplayer
The Civ 6 fall 2016 update adds a new multiplayer scenario called "Cavalry and Cannonades" that is entirely about conquest. You have 50 turns to grab as much territory as possible with a large starting army. You also begin with more technologies than usual, and pay less for unit maintenance costs.
The update also adds two new multiplayer maps, "Four-Leaf Clover" and "Six-Armed Snowflake." Both maps are designed to funnel players toward the center and get their armies fighting sooner rather than later. You may also play these maps offline, as well.
Civ 6 Fall Update Notes: Download your updates and bug fixes
The fall 2016 update also includes gameplay updates like the ability to rename cities, additional hotkey support and a prompt to show you which tiles a city will unlock next as it grows.
The game's AI has also been tuned by the new update. Expect rival civs to offer more competition in Science and Tourism, make more refined calculations about whether to go to war or not and to be quicker at building advanced military units.
Finally, the fall 2016 update delivers 16 balance adjustments, fixes two dozen bugs and adds numerous UI improvements, among other changes. You can read the complete list of changes here. The update will be applied automatically the next time you load Civ 6.
Civ 6 tips, tricks and hacks will lead you to world domination
To get the most out of Civ 6, check out our beginner's guide, guides for city and district planning, how to win a religious victory, the three most powerful civs, and our assessment of every civ in the game. And if you're into Civ 6 mods, check out the UI enhancement, real Earth map and Moar Units mods.