Macy's Thanksgiving Day Parade 2016 Livestream: Here's how to watch NYC parade online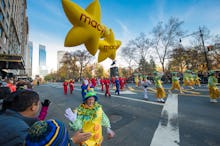 The annual Macy's Thanksgiving Day Parade will celebrate its 90th anniversary this year, hitting the New York City streets with dozens of character floats and a long list of celebrity performers, including Miranda Lambert and Sting.
NBC will broadcast the two-and-a-half-mile parade live on Thanksgiving morning, Nov. 24. The parade will also be livestreamed at NBC.com starting at 9 a.m for all timezones.
Viewers can also watch the Earthcam livestream, which is broadcast from a camera stationed in the heart of Columbus Circle. From 9 a.m. to 12 p.m. Eastern, the camera will catch the 8,000-plus participants in this year's parade as they head through the city.
Macy's has also launched a mobile app, Macy's Parade Time Traveler, in preparation for the live event. The app uses virtual reality technology to scan the streets outside Macy's flagship store in Herald Square, and shows what the parade was like in years past — but only for users who are nearby the Herald Square store. The app, which also allows users to "collect" float characters, is available for iPhone and Android.