President Donald Trump's Cabinet: Here's every member of his White House team so far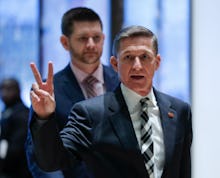 More than a week after he pulled off one of the most stunning victories in modern presidential history, President-elect Donald Trump's cabinet is starting to take form.
On Friday, Trump's transition team announced three top members of his executive leadership team, the first slate of those who will comprise his full cabinet. Speculation over high-level nominees has been swirling for days as Trump and his team meet with candidates at Trump Tower in New York.
Here's a look at who will be heading to the White House with Trump when he's sworn in on Jan. 20 and what you need to know about them as they help shape the future of the country.
Attorney General
Sen. Jeff Sessions of Alabama will be nominated to serve as Trump's attorney general, the nation's top law enforcement official who oversees the Department of Justice.
Sessions has served in the U.S. Senate since 1997 and serves on the Judiciary Committee. From 1981 to 1993 he was U.S. Attorney for the Southern District of Alabama, nominated by President Ronald Reagan. In 1995, he became Alabama's attorney general.
Back in 1986, Sessions was nominated to be a judge on the U.S. District Court for the Southern District of Alabama, but his nomination collapsed following revelations that he made racist comments to an employee. He could face another tough Senate confirmation process in 2017, with Democrats already coming out in opposition to his nomination.
Sessions supports Trump's plan to build a wall along the U.S.-Mexico border and is opposed to creating a pathway to citizenship for undocumented immigrants.
Sessions is clearly being rewarded for his loyalty to Trump. He was the first member of the Senate to endorse him. 
"Jeff has been a highly respected member of the U.S. Senate for 20 years. He is a world-class legal mind and considered a truly great Attorney General and U.S. Attorney in the state of Alabama. Jeff is greatly admired by legal scholars and virtually everyone who knows him," Trump said in a statement on Friday.
National Security Adviser
It's no surprise that retired Lt. Gen. Michael Flynn has been named to Trump's national security team. He has been Trump's top military adviser on the campaign trail, and is Trump's pick for national security adviser.
Flynn previously served as director of the Defense Intelligence Agency under President Barack Obama, but was pushed out of that job after rattling top leaders with his controversial style. In his book The Field of Fight, Flynn said the Obama administration didn't like it when he told a congressional committee "that we were not as safe as we had been a few years back," according to CNN. Others said he was booted for clashes over his management tactics.
Flynn has also caused an uproar over his comments about Muslims, tweeting that "Fear of Muslims is RATIONAL." He also has controversial ties to Russia and Turkey stemming from his work in the private sector.
"I am pleased that Lieutenant General Michael Flynn will be by my side as we work to defeat radical Islamic terrorism, navigate geopolitical challenges and keep Americans safe at home and abroad," Trump said in a statement on Friday. "General Flynn is one of the country's foremost experts on military and intelligence matters and he will be an invaluable asset to me and my administration."
CIA Director
Rep. Mike Pompeo of Kansas, Trump's choice for CIA director, has served in Congress since 2011 and serves on the House Intelligence Committee. He was also a member of the House Select Benghazi Committee which investigated the Sept. 11, 2011 attacks in Libya. Pompeo graduated first in his class at West Point and has a degree from Harvard Law School.
In 2013, Pompeo said that Muslim leaders who fail to denounce Islamic terrorism are "potentially complicit" in those attacks. "Instead of responding, silence has made these Islamic leaders across America potentially complicit in these acts, and more importantly still, in those that may well follow," he said in a floor speech, according to the Hill.
Trump praised Pompeo, saying in a statement on Friday that "he will be a brilliant and unrelenting leader for our intelligence community to ensure the safety of Americans and our allies."