Loretta Lynch calls spike in hate crimes an "alarming trend"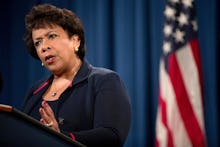 Following Donald Trump's election victory, hate crimes have been on the rise across the country, with many of the president-elect's newly emboldened supporters targeting groups that Trump disparaged throughout his campaign. 
On Friday, Attorney General Loretta Lynch condemned the attacks and hate speech in a video statement released by the Justice Department. In it, Lynch explains that the rise in hate crimes comes on the tail of 2015's 6% spike in such crimes against members of black, Jewish and LGBT communities, among others.
"These numbers should be deeply sobering for all Americans," Lynch said, referring to the FBI's recently released report which showed 5,818 single-bias incidents in 2015 alone. Among the many "alarming trends" revealed in the report is the 67% increase in hate crimes specifically targeting Muslim Americans, she said.
Lynch noted that the FBI is currently investigating the most recent spate of alleged anti-Muslim crimes and evaluating whether or not they constitute "violations of federal law."
"We need you to continue to report these incidents to local law enforcement as well as the Justice Department so that our career investigators and prosecutors can take action to defend your rights," she said.
The extent to which the Justice Department will crack down on hate crimes, though, became dubious when Trump's transition team announced on Friday that the president-elect was planning to nominate Alabama Sen. Jeff Sessions to take over Lynch's post. Trump called Sessions "highly respected," despite testimony of Sessions' alleged history of racism, including once joking that he thought members of the Ku Klux Klan were "OK until he learned they smoked marijuana."
Following news of the impending nomination, the American Civil Liberties Union published a press release stating that, while they aren't in the business of sounding off on presidential nominations, they had some serious reservations about Sessions — especially in light of how he has characterized their organization.
"Sen. Sessions has called the ACLU un-American and communist, assertions we flatly reject," statement reads. "His positions on LGBT rights, capital punishment, abortion rights, and presidential authority in times of war have been contested by the ACLU and other civil rights organizations." 
Given his track record, ACLU officials doubted Sessions' abilities to give equal protection to all Americans under the law, and urged the public to "closely examine" Sessions' stances on issues affecting minorities in the U.S. during his confirmation hearing.
Still, Lynch assured the American people on Friday: "We will continue to champion the values of diversity and inclusion that have always been the bedrock of our nation's progress, and that point the way to a brighter future."