Meghan Markle net worth, bio and 6 other facts to know about Prince Harry's girlfriend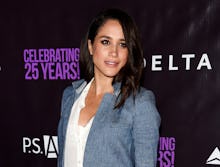 It's official: Prince Harry is off the market. In an official statement published by Kensington Palace following press harassment of rumored girlfriend Meghan Markle, Harry officially confirmed that he and the 35-year-old are in a relationship. And with Markle recently meeting Harry's brother Prince William, it seems that things are getting serious. 
Here are six things to know about this potential addition to the Royal Family:
Background
Markle, whose full name is Rachel Meghan Markle, was born and raised in Los Angeles. Thanks to her father, Emmy Award-winning director of photography Thomas W. Markle, she grew up in the world of television, spending years visiting her father on the set of Married... with Children. After gaining a private Catholic school education in Los Angeles, Markle went on to graduate from Northwestern University in 2003 with a double major in theater and international relations. 
Early in her post-college career, Markle supplemented her income between acting jobs in an unlikely way: freelance calligraphy. Markle's handwriting skills earned her jobs working for the likes of Dolce & Gabbana and Robin Thicke, and she tells Esquire that being a calligrapher was a "super-lucrative" profession.
While my mixed heritage may have created a grey area surrounding my self-identification, keeping me with a foot on both sides of the fence, I have come to embrace that. To say who I am, to share where I'm from, to voice my pride in being a strong, confident mixed-race woman.
Acting work
Markle is best known for her portrayal of paralegal Rachel Zane on the USA show Suits, on which she's appeared since 2011. The show films in Toronto, keeping Markle in Canada for eight months of the year.
Markle has also worked on such shows as Fringe, CSI: Miami, Castle and 90210. Her film credits include roles in Horrible Bosses and Get Him to the Greek.
Past relationships
Prior to her relationship with Prince Harry, Markle was previously married to film producer and talent manager Trevor Engelson. The two married in 2011 following six years of dating, but divorced in 2013 citing irreconcilable differences. Markle then began a relationship with celebrity chef Cory Vitiello. After two years of dating, the two split up in May — the same month she was introduced to Prince Harry.
Net worth
Markle's net worth is currently estimated to be $7 million, according to Forbes.
Lifestyle brand
Markle is also owner of The Tig, a lifestyle website described as "a hub for the discerning palate — those with a hunger for food, travel, fashion and beauty." The website is named for Tignanello wine, upon taking her first sip of which, Markle writes, "suddenly I understood what people meant by the body, legs, structure of wine. It was an ah-ha moment at its finest. For me, it became a 'Tig' moment – a moment of getting it."
As part of her larger lifestyle brand, Markle also launched her own fashion line, the Meghan Markle Collection, in partnership with Canadian fashion brand Reitmans.
Humanitarian work
In addition to her other work, Markle is also dedicated to humanitarian causes and serves as the global ambassador for World Vision Canada. Markle has traveled to Rwanda as part of a clean water campaign with the organization, and has also made trips to Afghanistan on a USO tour with the Joint Chiefs of Staff, as well as with Canadian Prime Minister Justin Trudeau. 
Markle is also dedicated to the issue of gender equality, and was named the United Nations Women Advocate for Women's Leadership & Political Participation in 2015. In her speech at the U.N., Markle said, "It is said that girls with dreams become women with vision. May we empower each other to carry out such vision — because it isn't enough to simply talk of equality. One must believe it. And it isn't enough to simply believe in it. One must work at it."
"I've never wanted to be a lady who lunches," Markle explained about her humanitarian work in Forbes. "I've always wanted to be a woman who works. And this type of work is what feeds my soul, and fuels my purpose."