Marijuana advocates fear Jeff Sessions' attorney general nomination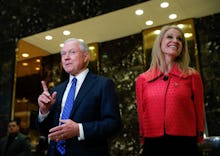 Sen. Jeff Sessions' nomination to become President-elect Donald Trump's attorney general has marijuana legalization advocates concerned about the future of recreational weed — which has grown in popularity as more states have chosen to legalize the drug.
Twenty-six states, as well as the District of Columbia, have legalized some form of the drug, according to Governing magazine. And three states — California, Massachusetts and Nevada  — just legalized recreational marijuana use in ballot measures passed by voters in November's election.
But Sessions, who has served in the Senate for two decades, has been vocal in his opposition to the drug. And as the United States' top law enforcement officer, he would have sweeping powers to curtail states' decisions to legalize pot.
"The marijuana industry should be extraordinarily concerned about Jeff Sessions," John Hudak, a marijuana policy expert at the Brookings Institution, said in an interview. "This is a man who has said, 'Good people don't smoke marijuana.' ... This is someone who should be alarming to marijuana reform advocates."
While more and more states have chosen to legalize pot, the drug is still illegal under federal law.
During President Barack Obama's administration, the Justice Department turned a blind eye and declined to prosecute marijuana growers and users who are adhering to their states' written laws on marijuana growing and use.
Sessions could take a different tack, however, choosing to go after marijuana growers and users in states which have voted or passed laws to legalize weed.
He's made his position on the drug clear, saying during a Senate hearing in April on legalized marijuana that, "Marijuana is not the kind of thing that ought to be legalized, it ought not to be minimized, that it's in fact a very real danger."
"To give that away and make it socially acceptable, creates the demand, increased demand that results in people being addicted or impacted adversely," Sessions said during the hearing.
Erik Altieri, executive director of pro-legalization group NORML, told Mic that Sessions' nomination as AG, "should send a chill down the spine of anyone who wants to see our fight for legalization move forward."
"Sessions is a militant marijuana prohibitionist who once stated that 'good people don't smoke marijuana,'" Altieri said. "This archaic mentality is not what we need from our nation's attorney general and we must put pressure on President-elect Trump to ensure that Sessions upholds Trump's campaign promise to not interfere with state marijuana laws."
Ultimately, Sessions would be taking marching orders from Trump on drug enforcement policy. Trump has said he thinks marijuana legalization should be up to the states, which means he could instruct Sessions to take a hands-off approach.
"Despite Mr. Sessions past rhetoric regarding sensible marijuana policy reform, the Marijuana Policy Project remains hopeful that the Trump administration will continue the policy of non-intervention in states with well-regulated marijuana laws," Robert J. Capecchi, director of federal policies at the Marijuana Policy Project, said in a statement. "President-elect Trump himself has recognized this as sound policy, saying that, 'in terms of marijuana and legalization, I think that should be a state issue, state-by-state.' His position is echoed by an overwhelming majority of the public who believe that states should be able to determine their own marijuana policies without federal interference."
But Trump, who throughout the campaign has proven to be uninterested in policy fights, could give Sessions free reign to decide drug enforcement policy. And that's what has legalization advocates scared.
"I think there's a wait-and-see moment now," Hudak said. "First to see if Jeff Sessions will be confirmed — don't think that's necessarily a guarantee given his past — and if he is confirmed, I think the industry is going to have to look quite closely on how much delegation is granted to the new AG, and whether he makes state legal marijuana a priority of his. If that becomes a priority, that could mean some pretty disastrous things for the industry."
Stefan Becket contributed reporting.