21 things you can do right now to respond to Trump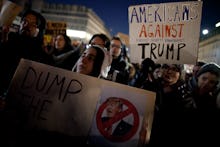 (Editor's note: In the aftermath of the election, many of Mic's readers have asked what they can do to take action and lend support to the causes they care about, so we turned to our generation's leading activists and crowdsourced their solutions. Over the coming weeks, we'll publish stories that present their suggestions for what you can do on topics like racial justice, gender equality and immigration. The following is a list of their ideas for local organizing, which has been edited for clarity. — Jake Horowitz, co-founder and editor-at-large)
It's been over a week since the election, and many people are still recovering from the shock of Election Day. After the most divisive election in our history, millions of Americans are questioning whether their voice still matters and how they can reconcile their deeply held beliefs with the outcome of the election. For progressives in particular, the prospects feel dim.
With Donald Trump as president-elect and Republicans set to retain control of both houses of Congress, Democrats will have limited levers to pull on the national stage in order to affect policy.
But just as the United States is more than any one person, so too is American government more than simply national politics. Single-party control of federal government doesn't mean you can't make your voice heard, and it certainly shouldn't mean you stop working to move the country forward through action and civic engagement.
For the millions of millennials who didn't vote for Trump and want to preserve rights for the groups his campaign has targeted, there's good news: There are things you can do in your own community to fight for the issues you care about. You can get involved right now. You don't have to sit on the sidelines.
Here are 21 ideas for how to organize in your own community, brought to you by some of our generation's leading activists and organizers.
1. Get familiar with your elected officials. Take a couple of minutes to double check your elected officials, their voting records and public stances. Whether you agree with them politically or not, learning a bit more about elected officials can be an effective way to understand and humanize them. Find your elected representatives here. — Mallika Madhusudan
2. Call and meet with your representatives. Politics is local, so contact your elected representatives on issues that matter to you. Whether it's a member of your local school board or your senator, here's how to do that effectively. Document your meetings on social media, on a podcast, in video or in writing. What did you discuss? What did you learn? How did it change your opinion or make you see things in a new way? Elected officials regularly review phone calls from constituents to get a sense of how they should vote. So this absolutely matters. Make your voice heard. Literally. — Mark Kogan
3. Lead a protest at your representative's local office. Hashtag protests might get us likes, but they rarely change policy. Remember, most elected officials are not savvy on social media. So if you really want to make your voice heard, gather a group of friends and lead a protest outside your elected official's local office. Call your local television station before you do so and make sure they bring their cameras. Alert reporters at local media companies and make sure they write about it. Even a group as small as 20 people can make a big difference if they are vocal and get attention. This kind of pressure becomes impossible for elected officials to ignore. — Mark Kogan
4. Run for office. There are over a half million elected officials in our country, and elections happen every year! Check out the new site RunforOffice.org or RunforAmerica.us to get started. Maybe it's for your school board, town council, neighborhood commission or something else. Running for office is the highest expression of citizenship and one of the most important contributions to our system of self-government. — Nick Troiano
5. Take action every day. Sign up at www.FightTrump.co to receive a single action you can take every day. For example, this week you can call members of Congress and read them excerpts from Breitbart stories to protest Trump's appointment of Steve Bannon to the White House. #FightTrump will send you actions you can do every week, every month and after Jan. 20, when Trump actually takes power. Get involved. Act. — Mark Kogan
6. Understand your local and state voting processes. Registering to vote is not as easy as it sounds — particularly for certain demographics, those without access to driver's licenses or those without easy access to online or mobile registration. Investigate how people different from you experience voting. Learn about the challenges they face, such as voter suppression and disenfranchising regulations. — Shreya Ganeshan
7. Construct local monuments. When the Berlin Wall fell and so many countries were freed from Soviet-style communism, some of the first actions they took were to bury the dead, lay flowers at important public spaces and consecrate the public spaces that were now sacred sites for new democracies. Communities in profound political transition need to mourn. What are the sacred spaces in our communities right now — those that remind us what democracy means and why we will fight to keep it alive? How do we consecrate them and make them into places where we can all continue to meet and remember why we care about this country so much? — Szelena Gray
8. Fight to reform our political system. The operating system of our democracy needs an upgrade. Many of the structural incentives work to push us apart rather than bring us together. Support groups that are working to reform our political process. For example, FairVote is working on redistricting reform, Electoral College reform and voting reform. Some of these reforms can start at a local level. — Nick Troiano
9. Meet your fellow Americans. Try to meet and hold discussions with people unlike you. Get to know your fellow Americans. Strike up pen-pal connections or organize Skype and FaceTime chats with folks in different communities from your own. Focus on discussing tough issues and getting to know what is important to one another. — Mark Kogan
10. Move your money. Donating to worthy causes is an important way to make change. But if you don't have a bunch of money to spare, commit to changing the way you spend the money you do have. Support black-owned businesses. Or consider moving your bank account from a large bank to a community bank or credit union. I recommend Amalgamated Bank. — Joelle Gamble
11. Commit to national service. Serve your community and the country by participating in public service. Participate in projects that emphasize community building and recovery. You don't have to join the military or AmeriCorps: Find a local community project or state effort, meet people and help improve the lives of the people around you. — Mark Kogan
12. Make a plan for civic purpose. Check out Pathways, a nonpartisan civic leadership program. It's a unique approach that provides a space where people can identify, plan and make moves toward their civic purpose. The idea is that people have to identify and own their decisions themselves, not be persuaded what to do. It's intentionally nonpartisan and uses methodologies from several fields to design a program structure that is as empowering as possible. — Alex Torpey, Pathways program director
13. Disrupt the two-party duopoly. Both parties are over 150 years old! They no longer represent most Americans. We're the generation that has revolutionized virtually every other industry, and it's time we did the same for politics. A majority of millennials are political independents who consider themselves "fiscally conservative and socially liberal." The Centrist Project is organizing this movement. Get involved and help shape it. — Nick Troiano, Centrist Project executive director
14. Exit your bubble. Diversify your news sources. Use an aggregator like RealClearPolitics for daily opinion pieces across the political spectrum. If you're conservative-leaning, get a subscription to the New York Times. If you're progressive-leaning, get a subscription to the Wall Street Journal. Recognize that your social media feed is likely an echo chamber and proactively work to challenge your thinking. — Nick Troiano
15. Learn from work being done globally. There is incredible work being done overseas, which provides valuable insights that can be applied to doing better community empowerment in the United States. So much "development" at home and abroad ignores the agency of a particular community. Organizations like Spark MicroGrants, Ubuntu Fund and One Acre Fund do really amazing jobs at being authentically community driven. — Alex Torpey
16. "Bring us together." Richard Nixon adopted this slogan during his campaign after his aides saw a teenager carrying a sign with those words during a rally in Ohio. This should be the message we bring to every elected official after 2016. Bring us together, please. Make this the next political sign on your lawn, the next branded message on your social media profile — just make it the next thing you ask your elected official to do. Because it is the single most important thing for any of our leaders to do now. — Szelena Gray
17. Rebuild the Democratic Party. Go join that Democratic town committee you once joked about being a retirement home, and get your friends to come. Find your state offices and ask them for a calendar of events. Recruit the bravest, smartest people you know to run for local office. Or maybe you should run. Challenge elected officials in both parties to do better. Swamp their offices, jam their phone lines, list your demands. — Frank Chi
18. Go home more often. This Thanksgiving, remember that even one's own family members and friends might be outside your political-thinking bubble. Acceptance and change can be hard without any exposure but might be easier coming from a loved one. Are you a transplant to a city from a small town or rural area? Do you work on this every day but your family in the suburbs doesn't think about it much? Visit your family, visit other people's families, share what's important to you and organize within them. We need to show our representatives that we value compromise and coming together. —  Adrienne Scott and Brenna Conway
19. Stay woke. Rhetoric can persuade and mislead. As a new administration takes hold, there will be a flood of talk about what will and will not come out of Washington. Our job is to pay attention now, not a few weeks before the next election. Politicians can make promises and change stances. But actions speak louder than words. Learn who is being put in charge of government, research their background and see if what actions they talk about actually align with the change you hope to see. Sign up for listservs and updates from organizations who care about government accountability. Follow organizations who have a mission of fighting for the communities you care about. — Joelle Gamble
20. Challenge others to keep caring. A lot of people are really upset right now — far beyond individuals who are generally politically engaged and even beyond those who generally vote. Keep bugging your friends, family and neighbors to stay engaged. When you do something political or issue-driven, bring someone along. — Dominic Russel
21. Activate your skill set and leverage your expertise. Are you a creative in advertising? Design the resistance. Are you a developer in tech? Create technology for organizers. Are you in entertainment and work with celebrities who are outraged? Make sure they amplify the voices of those on the front lines. We shouldn't all be doing just one thing. We should all be doing what we are best at. Moments like this require us to ask what we are experts on and how we can maximize our skill sets and our networks to make the most impact. — Frank Chi
Most importantly, don't get complacent and don't give up! Democracy is a long game and a full-contact sport. It takes courage, commitment and dedication. Change doesn't come overnight, but it does come to those who work for it. It's time to get to work.
If you have additional ideas for what people can do, we want to hear from you! Email Mark Kogan (markkogan16@gmail.com) with your suggestions.