Thanksgiving 2016 weather forecast for every region of the US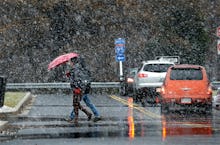 Thanksgiving is finally here, which means it's time for family, food ... and one of the busiest travel periods of the year. As Americans prepare to get in the car or head to the airport en route to Thanksgiving dinner, it's important to be aware of any potential weather issues that could affect the journey.
Here's what the forecast currently predicts for each region of the U.S., according to the Weather Channel:
Northeast weather
Thanksgiving Day parade-goers in New York City and Philadelphia may be in for a wet morning, as showers are currently expected on Thursday throughout the Northeast and Mid-Atlantic regions. When exactly the rain arrives will depend on how quickly a storm in the Midwest moves eastward, but current forecasts predict a rainy Thanksgiving that stretches from southern Maine to South Carolina. Parts of upstate New York and New England may also receive some snow or a wintry mix of rain and ice.
The good news is that temperatures won't be too frigid: New York City is expected to be 51 degrees on Thanksgiving Day. Up in New England, Boston will be cooler, with a predicted temperature of 43 degrees.
The Weather Channel predicts that highways possibly affected by the rain could include I-80 from New Jersey to Ohio, I-81 from New York to Virginia, I-90 from Massachusetts to Ohio and I-95 from Maine to North Carolina. If the rain and resulting low clouds affect any major airports, it would be those in Boston, New York and Philadelphia.
Southeast weather
Southern states from Georgia to Florida have pleasant Thanksgiving weather in store, with no precipitation in the forecast and temperatures expected to reach 70 degrees in Atlanta and 80 degrees in Miami. It currently depends, however, on how quickly a storm in the midwest is able to travel east, though the precipitation is currently expected to travel through the southern states on Wednesday, leaving clear Thursday skies. States that are further North, however, won't be quite so lucky: Although it depends on the storm's path, rain is currently expected in Washington, D.C., and parts of Virginia and North Carolina.
Midwest weather
Forecasts for Thanksgiving Day in the Midwest currently depend on how quickly a storm\\Rain is currently expected in parts of Ohio, and Michigan. Parts of northern Minnesota and North Dakota may also see some snow on Thanksgiving. Temperatures are currently expected to primarily be in the 30s and 40s in the upper Midwest, while Nebraska and Missouri will likely see temperatures in the low 50s.
Southwest weather
It's going to be a sunny Thanksgiving for Americans in the Southwest. Though rain is in the forecast for parts of southern Texas on Wednesday, Thursday should have sunny skies across the Southwest, with temperatures expected to be primarily in the 60s and low 70s. 
West Coast weather
Much of the western U.S. will have clear skies on Thanksgiving, though the Pacific Northwest might not be so lucky. Rain and scattered snow showers are currently expected for much of Washington and Oregon, along with northern California as well as parts of Idaho and Montana. There may also be some isolated snow southern Wyoming. Temperatures are expected to be in the upper 40s throughout the Pacific Northwest, Utah and Montana, while much of California will see temperatures in the 60s and 70s.
Travelers on the West Coast this Thanksgiving may be impacted by delays from the precipitation in the Pacific Northwest, with low clouds and rain potentially affecting flights going in and out of Seattle. The only major highway that's currently predicted to have issues because of the expected rain is I-5 from northern California to Washington.