'Game of Thrones' may have recast this character in Season 7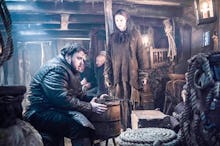 With filming for season seven of Game of Thrones well underway, it's about time we got some information on who will be joining the large ensemble cast of HBO's grandest series next year. 
Well, while the show was shooting in Cáceres, Spain, Spanish publication Los Siete Reinos captured a photograph of actor James Faulkner, who played Randyll Tarly this past season, and British actor Tom Hopper sitting on a park bench in the Spanish city.
The sighting of Tom Hopper brings up a big question: Who could the actor, known for his work on Merlin and Doctor Who, be playing on the show? According to Watchers on the Wall, it would make sense for Hopper to take on the role of Dickon Tarly, the younger brother of our beloved Sam. In season six of Game of Thrones, the character was played by Freddie Stroma. However, it has been speculated that Stroma's new role as H.G. Wells in ABC's upcoming series Time After Time could have created scheduling conflicts for the actor, which in turn could have led to his role being recast. 
Dickon Tarly is the heir to Horn Hill. In "Blood of My Blood," the sixth episode of Game of Thrones' sixth season, Sam returns home with Gilly. At the dinner table, when Dickon insults his older brother and claims that White Walkers are not real, Gilly reveals herself to be a Wildling. This causes friction among the Tarly family, and Sam is commanded by his father to leave Horn Hill and never return.
HBO has yet to make any official announcements regarding recasting, but given the sighting of Hopper and the assumed scheduling conflicts for Stroma, paired with the fact that his appearance in last season was quite brief, Dickon's recasting seems to be the most likely scenario. It wouldn't be the first time HBO has done this, either. In season three of Game of Thrones, Daario, the commander of the Second Sons, is played by Ed Skrein. From season four onward he has been played by Michiel Huisman. The Mountain has also been portrayed by three different actors. Conan Stevens played the character in season one, and was replaced by Ian Whyte in season two. Hafþór Júlíus Björnsson took over the role in season four.
Anyway, best of luck to Hopper. Because, this being Game of Thrones, there's always the possibility that his character could be killed off within minutes of his first appearance.