Who will be Treasury secretary under Donald Trump? Here are all the names being floated.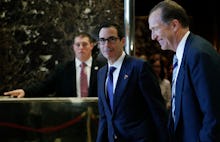 President-elect Donald Trump has a tough decision to make when it comes to picking the next Treasury secretary.
On one hand, Trump was elected in part thanks to his populist anti-Wall Street rhetoric. But on the other hand, the Secretary of the Treasury traditionally comes from a finance background. Even President Obama's most recent pick for the job, Jacob Lew who is largely a lifelong bureaucrat — did two years at Citigroup. 
Despite his populist support, Trump is likely to appoint another plutocrat for the job, at least based on all of the names that are reportedly on the shortlist. Here's who you should keep an eye out for as Trump's Cabinet continues to take shape. 
Steve Mnuchin
The most common name that's been bandied about is Steve Mnuchin, a former second-generation Goldman Sachs banker who now divides his time between managing Dune Capital, a hedge fund, and financing movies out in Hollywood like Suicide Squad. 
Mnuchin's frontrunner status comes from the fact that he was one of the first major Wall Street personalities to back Trump when he was still a pariah, although Mnuchin not without controversy.
In addition to being a Wall Street elite, Mnuchin could also be something of a headache to get confirmed, given a scandal-ridden past which involves accusations of housing discrimination and profiting off of vulnerable borrowers during the financial crisis.  
Wilbur Ross 
Politico reports that the second top-name on Trump's list is the billionaire Wilbur Ross, a good name to remember because he's also on the shortlist for Commerce Secretary as well. 
The investor made his fortune running a private equity firm that specializes in turning around distressed companies. Ross was also an early backer of Trump, particularly because he is a fierce advocate of renegotiating trade deals like the North American Free Trade Agreement.
Ross is not without controversy, either. Like many private equity companies specializing in "distressed companies," Ross's firm has a reputation for laying off workers and slashing benefits. 
The Nation reports at one point in the early 2000s, Ross cut costs by stripping 150,000 retired steel workers of their healthcare. Many of his coal mines were also criticized for lax safety standards: The roof in one of his mines collapsed 20 times in a single year, and 12 miners were actually killed when an explosion left them stranded in a passageway filled with carbon monoxide. 
Jeb Hensarling
One of the few non-bankers on the list is veteran Texas Congressman Jeb Hensarling, who is Chairman of the House Financial Services Committee, although he himself has said he doubts he'll end up with the job.
Hensarling is a classic regulatory reform proponent who believes in the free market. "I will not rest until Dodd-Frank is ripped out by its roots and tossed on the trash bin of history," he said in a recent speech, referring to the regulatory reform passed in the wake of the financial crisis. 
Though he is a long shot for the position, he is still expected to play an outsize role in helping to design and implement Trump's economics program, especially in paring back regulations. 
Kevin Warsh
Kevin Warsh, a former Federal Reserve Governor who is now at the Hoover Institute at Stanford, is another name that's been thrown around, Politico's Ben White reports. 
But given his background in the Fed, other reports suggest he could very likely end up there instead, where he might also have a hand in implementing a push toward deregulation. 
Jamie Dimon 
On Thursday, rumors flared that Trump had offered the job to JP Morgan CEO Jamie Dimon after Fox Business anchor Maria Bartiromo tweeted that Dimon "would get" the position. 
Dimon is reportedly uninterested in the job, although the well-respected banker and Democrat might be seen as a reassuring pick to Wall Street and Trump's opposition party alike.
Henry Kravis
Henry Kravis is reportedly interested in the job and has discussed it with Trump, according to the New York Post, but has not been mentioned publicly since before the election as a serious contender for the role. 
Kravis might be most well-known as the head of private equity firm KKR & Co, which is known for leveraged buyouts. He is also said to be one of the primary inspirations for Gordon Gekko, the villain in the 1980s classic Wall Street.