Apple recognizes persistant problem with iPhone 6 Plus, will charge users to get it fixed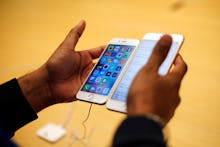 Apple has finally recognized a well-documented issue with the iPhone 6 Plus — sort of. The company acknowledged the presence of "Multi-Touch issues," perhaps better known as "touch disease," and wants to help iPhone owners fix it — for the price of $149. 
"Apple has determined that some iPhone 6 Plus devices may exhibit display flickering or Multi-Touch issues after being dropped multiple times on a hard surface and then incurring further stress on the device," Apple said on a post on the company's support page. 
Most consumers are more interested in linking "touch disease" to the infamous Bendgate, which plagued both iPhone 6 and 6 Plus owners shortly after its launch. BGR reported that several independent technicians associated the defects with a controller chip design flaw in the iPhone 6 and iPhone 6 Plus. Apple isn't prepared to acknowledge that, though — there's no mention of any liability on the Apple's behalf, and the company won't even make this deal for standard iPhone 6s. 
"The repair program covers affected iPhone 6 Plus devices for five years after the first retail sale of the unit," Apple's statement continues. That should grant most 6 Plus owners with three or so years of warranty.
Apple added that buyers who already repaired iPhone 6 Plus' suffering from "touch disease" symptoms qualify for reimbursement. "The reimbursement amount will equal the difference between the price you paid for the original service to your iPhone 6 Plus and the $149 service price."