500 DAPL protestors will eat a Thanksgiving meal at Standing Rock — served by Jane Fonda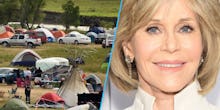 While many Americans gather round to stuff turkey and mashed potatoes into their pie holes on Thursday, actor and fitness prophet Jane Fonda will be serving a Thanksgiving meal to the activists protesting the construction of the North Dakota Access Pipeline. 
Fonda will serve dinner and contribute five butchered Bison and four Mongolian yurts to the Oceti Sakowin camp near Cannon Ball, North Dakota, the Dakota Dispatch reported. She'll be part of a delegation of roughly 50 people from around the country who are traveling to Standing Rock to serve a hot meal to roughly 500 activists, indigenous people and their allies who are protesting the pipeline that will disrupt sacred lands and threaten the Sioux water supply. 
A two-time Academy Award-winning actor Fonda has been an activist for many decades. She supported the Civil Rights Movement and opposed the Vietnam War in the 1960s. 
Judy Wicks, a local food advocate and former owner of White Dog Cafe in Philadelphia, explained she decided to organize a Thanksgiving meal with a 50-person delegation that includes Fonda. "I'm going to Standing Rock in hopes that this stand begins a new era in American history when the rights and sovereignty of indigenous people are defended, as well as the rights of nature," she wrote in EcoWatch.
Why serve Thanksgiving at Standing Rock? 
Thanksgiving isn't aways embraced by Native Americans — there's a "National Day of Mourning" on Cole's Hill in Plymouth, Massachusetts, to remember the "genocide of millions of Native people, the theft of Native lands, and the relentless assault on Native culture," the United American Indians of New England wrote. 
However, Wicks decided to bring a Thanksgiving meal to Standing Rock after Tom Goldtooth, the Director of the Indigenous Environmental Network, told her that his friends at Standing Rock celebrate the American holiday, Civil Eats reported. 
"This is about being an activist in the way that I know how to be an activist — by feeding people" - Jeremy Stanton, butcher
For 15 years, Wicks invited leaders of the Lenape tribe to come commemorate Thanksgiving and to give thanks for the foods natives first cultivated, EcoWatch reported. This year, the meal will include pasture-raised turkeys which will be spit-roasted, and dishes made from native ingredients including squash, sweet potatoes, wild rice, corn and cranberries, Civil Eats reported. 
"This is about being an activist in the way that I know how to be an activist — by feeding people," Jeremy Stanton, owner of a sustainable butcher shop, and catering business in Great Barrington, Mass., told Civil Eats. 
Here's a photo of Stanton with beef, not turkey, which will be spit-roasted and served on Thursday.
The irony of hosting Thanksgiving during Standing Rock protests
Many on Twitter were quick to point out that Americans across the country celebrating Turkey Day feels more than a little tasteless this year. 
But the idea of an idyllic meal is false to begin with. 
"Omitted from the history textbooks was the chapters on the genocide of indigenous people and governmental policies that dispossessed them of their homelands," Alex Jimerson, a member of the Seneca Nation and a graduate student in the food studies program at New York University, said in an email. He said in grade school, he was only taught about the generosity of the Native Americans and the misfortune of the Pilgrims. Jimerson grew up on the Seneca territories of Allegany and Cattaraugus in Western New York and attended public school.
Though Jimerson opposes romanticized views of Thanksgiving, the holiday isn't completely worthless in his eyes. He said he'll be surrounded by loved ones, learning how to make coveted family dishes and cherishing his day off from graduate school. He enjoys making candied yams, a dish his grandmother taught him to prepare. "Now it's my responsibility to make it on Thursday," he said. 
Is there a way to honor the indigenous people who made our country possible through the food we eat? Sort of. Jimerson explained acknowledging that native people have a rich history of plant breeding is one way to honor their food culture.  "Varieties of corn, beans and squashes were bred in specific climates and environments to feed a distinct people living within a region," he said. 
For those at home, Jimerson suggests Americans have "an honest reflection and discussion" about history and about the current relationship the government has towards indigenous people. 
But honoring America's relationship with indigenous people shouldn't be limited to one day a year, and neither should the Thanksgiving ritual of showing gratitude, he noted.
If the protestors at Standing Rock are any indication, Americans ought to give their thanks — then do the Jane Fonda and stand up for what they believe in.